Chinese Style Rice with Fried Shrimp
by Editorial Staff
Chinese style fried shrimp rice is an easy-to-prepare dish that is often served in Chinese restaurants. It cooks quickly, so it's good for a quick lunch or dinner.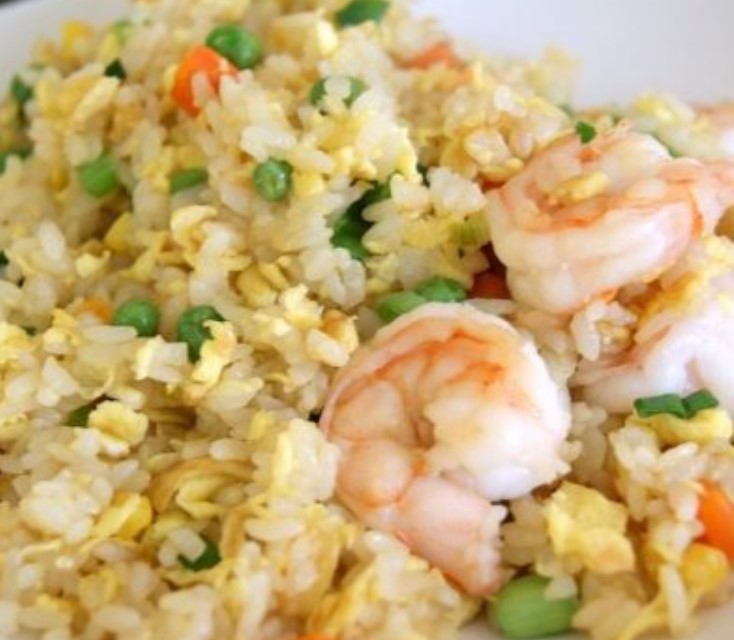 Cook: 30 mins
Servings: 2-3
Ingredients
Boiled rice – 200 Grams
Large shrimps – 10-15 Pieces
Eggs – 3 Pieces
Green onions (feathers) – 2 Pieces
Oyster Sauce – 1 Teaspoon
Oil – 5 Art. spoons
Directions
Rice must first be boiled until tender. However, do not overcook the rice and turn it into porridge – let it be a little harder than fully cooked, because we will still fry it.
We take the vegetables out of the freezer and defrost them.

Break eggs into a bowl.
Mix well and set aside.
Chop the green onion finely, set aside for now.
We clean the shrimps, season with salt.
We heat the dry wok. When the wok is very hot, pour half the oil into it. When the butter is hot, throw the shrimp into it.
Stirring quickly, fry the shrimp until tender – it will take literally 2 minutes, no more. Then we drain the oil, set aside the shrimps.
Reheat the dry wok, when it gets hot, pour in the oil. When the oil is hot, pour the eggs into the wok and fry for about 30 seconds.
Then add rice and, stir quickly, fry rice with eggs. We want the rice to stick to the eggs, but not turn into porridge.
Stirring vigorously, fry the rice with eggs. When the rice becomes crumbly, but a little egg mixture sticks to each grain of rice (if you have ever eaten Chinese dishes with rice, you probably know what you mean), the rice can be salted, and the fire in the wok can be reduced to medium.
Add vegetables to the rice.
Add the shrimp immediately to the wok. Stir and heat over medium heat for about a minute.

Add oyster sauce (optional) and green onions. Mix, heat for another 30 seconds – and remove from heat.
We serve immediately.
Bon Appetit!
Also Like
Comments for "Chinese Style Rice with Fried Shrimp"