Fried Chicken with Vegetables and Mushrooms, Chinese Style
by Editorial Staff
A delicious and mouth-watering Chinese dish can be prepared in just 30 minutes. Fried chicken fillet with vegetables and mushrooms in a spicy sauce. The fried chicken prepared according to this recipe will make your lunch or dinner unusual and will successfully decorate the festive table.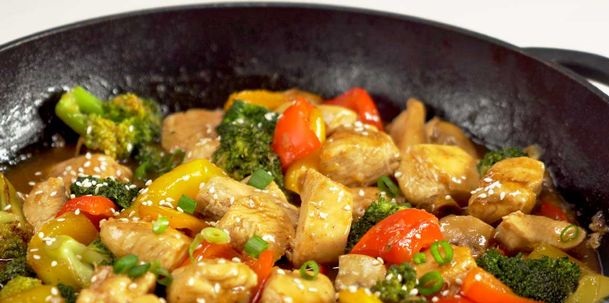 Cook: 30 mins
Servings: 6
Ingredients
Chicken breast fillet – 450 g
Broccoli cabbage – 300 g
Champignons – 250 g
Sweet yellow pepper – 200 g
Sweet red pepper – 150 g
Soy sauce – 80 ml
Chicken broth – 80 ml
Garlic – 20 g
Ginger root – 20 g
Honey – 80 ml
Corn starch – 2 tbsp
Rice vinegar – 1 tbsp
Sesame oil – 1 tbsp
Vegetable oil – 2 tbsp
Salt – ½ teaspoon
Ground black pepper – ½ teaspoon
Ground red chili pepper – ½ teaspoon
Green onions (for serving) – 10 g
Sesame seeds (for serving) – 1 teaspoon
Directions
Cut all vegetables and chicken breast into approximately the same size pieces. Heat a skillet with vegetable oil. Place broccoli, bell peppers, and mushrooms in a skillet and fry over high heat for 1 minute, stirring constantly. Cover the skillet with a lid and simmer vegetables and mushrooms over low heat for 10 minutes. Open the lid and continue to cook over high heat for 3 minutes, stirring constantly.
Peel and squeeze the garlic through a press. Peel the ginger root and grate on a fine grater. Combine the chicken stock with the starch in a bowl. Add chili peppers, sesame oil, rice vinegar, garlic, ginger, soy sauce, and honey. Stir.

Collect the vegetables from the skillet into a bowl.
Place the chicken in the pan, add salt and black pepper. Fry the chicken over high heat for 2-3 minutes, until golden brown. Then cover and simmer for 5 minutes over low heat.
Pour the prepared sauce over the chicken and cook over medium heat for about 2 minutes.

Once the sauce begins to thicken, add the cooked vegetables to the chicken and stir.
Turn off the fire. Sprinkle the fried chicken with vegetables and mushrooms on top with finely chopped green onions and sesame seeds.
Bon Appetit!
Also Like
Comments for "Fried Chicken with Vegetables and Mushrooms, Chinese Style"