Chinese Shrimp Curry
by Editorial Staff
A blend of oriental flavors come together to make these delicious Chinese prawn curry! Delicious and juicy shrimp with creamy curry sauce: what more could you ask for?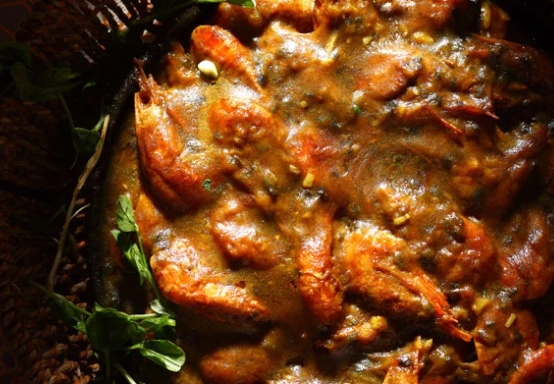 Ingredients
Seasoning:
50 g curry powder
20 grams of sugar
2 g salt
¼ red onion
1 piece of ginger
2 cloves of garlic
2 tablespoons fresh milk
1 teaspoon butter
2 teaspoon. flour
Directions
Heat about 3 tablespoons of oil to 70%, pour into a bowl of curry powder and stir. (This is the method I use to make shrimp curry sauce.)
Dice the onion, garlic and ginger.
Arctic shrimp are naturally defrosted beforehand and oil is poured into the wok.
It is heated to 80% heat, put in shrimp and quickly fried for about 20 seconds.
Drain the oil (leave some base oil), sauté the onion, garlic and ginger. Then add the required amount of curry/butter.
stir the entire contents and let it simmer for a few minutes.
Put the fried shrimp and add some hot water to submerge the shrimp, add sugar and salt, and bring to a boil.
Then add 2 tablespoons of fresh milk and boil again. Add butter/flour melted beforehand.
Pour into a metal baking sheet and place in an oven preheated to 200 ° C for five or six minutes. Take out and serve!
Enjoy!
Also Like
Comments for "Chinese Shrimp Curry"