Shrimps with Curry Sauce
by Editorial Staff
Shrimps are cooked in a curry sauce and coconut milk.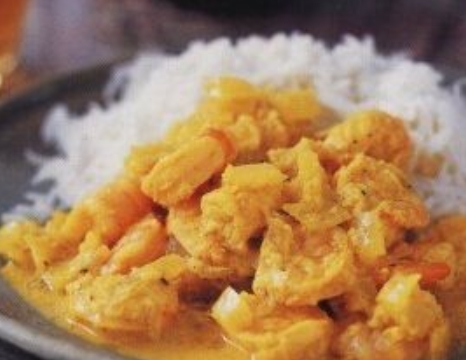 Servings: 4
Ingredients
Tiger shrimps (peeled) – 500 g
Coconut milk – 1 glass
Ground cumin (cumin) – 0.5 teaspoon.
Ground coriander – 1 teaspoon
Ground turmeric – 0.5 teaspoon.
Chile powder – 0.5 teaspoon.
Ground black pepper – 0.5 teaspoon.
Salt – 0.5 teaspoon.
Apple cider vinegar – 2 tbsp
Sunflower oil – 4 tbsp
Onions (chopped) – 1 pc.
Fresh ginger (chopped on a grater) – 2 teaspoon.
Garlic (chopped) – 2 teaspoon
Chili green – 4 pcs.
Fresh cilantro (chopped) – 2 tbsp
Cooked rice, hot for serving
Directions
Place the peeled shrimp in a non-metallic bowl, sprinkle with salt and drizzle with vinegar. Stir, leave to marinate for 10-15 minutes.
Heat sunflower oil in a deep saucepan over medium heat, add onion, cook, stirring occasionally, until transparent.
Add garlic and ginger to the pan, simmer for a couple of minutes, until light golden brown.
In a separate small bowl, combine cumin, coriander, turmeric, chili powder and black pepper, add 2 tablespoons of water, stir to a paste. Pour this mixture into a saucepan with onions, cook for 4-5 minutes.
Add 200 grams of warm water, coconut milk to a saucepan and salt to taste. Cook until the sauce thickens slightly.
Put the shrimp with the marinade in a saucepan with sauce, bring the mass to a boil, cook the shrimp for 5-7 minutes.
Place whole chili peppers in the sauce, cook for another 2-3 minutes. Add chopped cilantro, stir.
Serve curry prawns with hot rice.
Also Like
Comments for "Shrimps with Curry Sauce"