Shrimp with Spicy Sauce
by Editorial Staff
Few would argue that protein and calcium-rich shrimp are delicious food. You can cook them in different ways. The simplest thing is to fry in a frying pan (by the way, you can also use wooden skewers) and eat it dipped in a spicy sauce.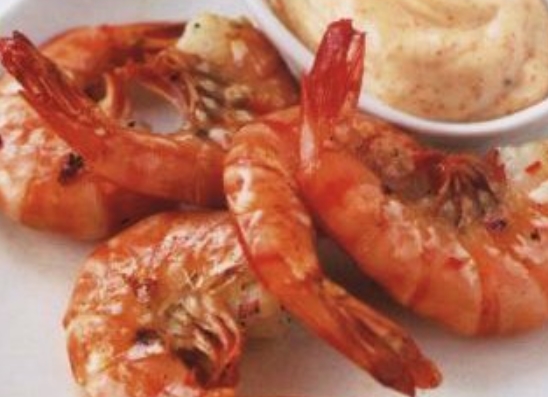 Servings: 4
Ingredients
Large raw unpeeled shrimps – 250 g
Olive oil – 2 tbsp
Fresh chili, seedless, finely chopped – 1 pc.
or 1 pinch of dried hot red pepper (flakes)
For the sauce:
Garlic, finely chopped – 1 clove
Chili pepper (powder) – 1 teaspoon
Paprika – 1 teaspoon
Cumin (Indian cumin) ground – 1 pinch
Juice of 1 lime
Mayonnaise – 4-5 tbsp
Salt
Ground black pepper
Directions
Stir the shrimp well with 1 tbsp olive oil and pepper.
Separately mix 1 tbsp olive oil, garlic, chili peppers, paprika, cumin, lime juice and mayonnaise. Season with salt and pepper to taste.
Heat a cast-iron skillet (or grill pan) well over high heat. Fry the shrimp, flipping once, for 3-4 minutes. Serve with cooked hot sauce, salad and fresh bread.
Enjoy your meal!
Also Like
Comments for "Shrimp with Spicy Sauce"