Chinese Fried Cucumbers
by Editorial Staff
A delicious cucumber spice can be prepared quickly and easily. Chinese fried cucumbers are interesting to diversify our daily diet.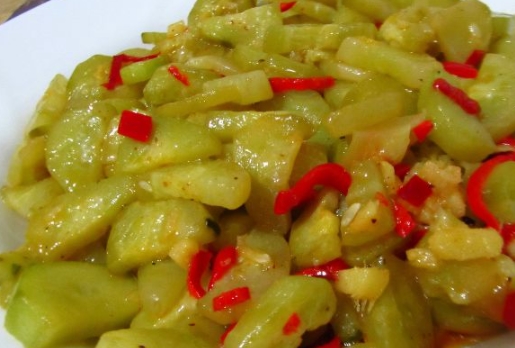 Directions
Cucumbers – 0.5 kg
Fresh chili peppers – 2 pods
Ginger root – 10 g
Garlic – 1 clove
Butter – 20 g
Soy sauce – 30 g
Vodka – 1 teaspoon.
Balsamic vinegar (or lemon juice) – 1 tbsp
Sugar – 1 tbsp
Salt to taste
Ground black pepper – to taste
Vegetable oil – 2 tbsp
Directions
Peel the cucumbers and cut them in half lengthwise. If the seeds are large, they must be removed. I had young, small cucumbers, so I did not remove the seeds.

Cut the cucumbers into halves.

Peel one chili pepper and cut into thin strips.
And finely chop the second pepper.
Chop the ginger finely. Pass the garlic through a press.
Heat vegetable oil in a frying pan, add cucumbers and chili, cut into strips. Fry, stirring occasionally, over high heat for 5 minutes.
Then move the cucumbers to the side, and place the ginger, garlic and chopped chili in the free space in the pan. Cook for 1-2 minutes. Then stir the contents of the pan.
Add butter, soy sauce, vodka, balsamic vinegar, sugar, salt and black pepper to the cucumbers. Cook, stirring occasionally, for about 1 minute.

Chinese fried cucumbers are ready! Serve them to the table.
Enjoy your meal!
Also Like
Comments for "Chinese Fried Cucumbers"