Chocolate Dessert with Cherries
by Editorial Staff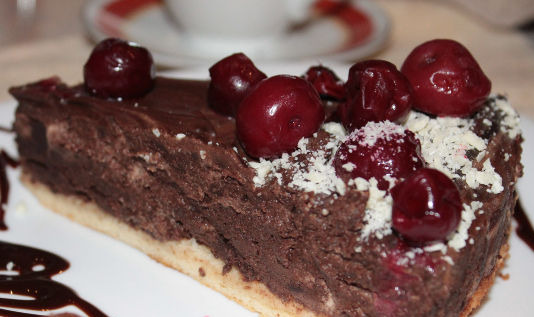 Lovers of dark chocolate and any chocolate in particular. Cherries are very effective and …. it's easy to do =))
Ingredients
– 550 ml cream 35-38%
– 300 g of dark chocolate (cocoa content over 70%)
– 200 grams of milk chocolate
– 40 g flour
– 2 eggs
– 40 grams of granulated sugar (+ for syrup)
– 2-3 tablespoon rum (or liqueur)
– cherries and a few slices of white chocolate for garnish
Directions
Beat eggs + granulated sugar into a strong foam + flour, stir at minimum speed. Lay a detachable form with a diameter of 24-27 cm with parchment, pour out the dough and bake for 15-20 minutes at a temperature of 180 degrees. Remove from the oven, cool, check that the cake does not stick to the mold anywhere (put the mold back);
Make sugar syrup (water + sugar – to taste), cool slightly + rum/liqueur, and soak the cake well;
Pour 200 ml of cream into a ladle, and they're all the softened chocolate (in slices). I soften the chocolate in the microwave in advance. Over VERY low heat and stirring constantly, bring until smooth. No need to boil. Cool the mass to room temperature;
300 ml of cream + granulated sugar, beat into a strong foam, and transfer to the chocolate mass. No need to mix thoroughly. Then you get the "streaked" chocolate.
Pour the resulting mass into the cake pan, garnish with grated white chocolate and cherries and refrigerate for at least 3 hours.
Enjoy your meal!
Also Like
Comments for "Chocolate Dessert with Cherries"