Dessert "Drunk Cherry"
by Editorial Staff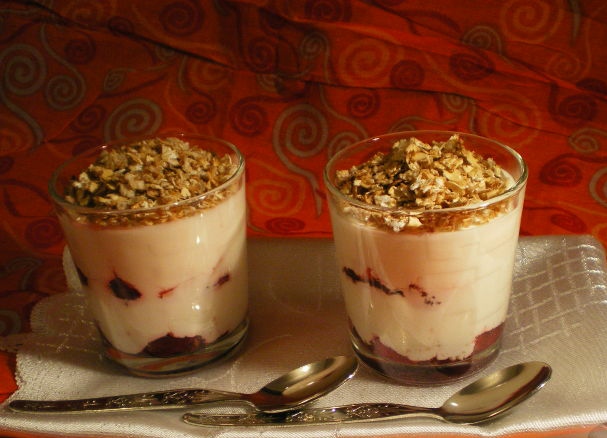 Delicious, light, festively beautiful frozen cherry dessert.
Ingredients
Frozen cherries-200 g
Sour cream (25%) – 2 tablespoon.
Sugar – 1/2 tablespoon.
Cognac – 4 tablespoon
Gelatin – 1 tablespoon
For decoration:
Flakes "Hercules" – 4 tablespoon.
Sugar – 1 tablespoon
Directions
Dissolve the gelatin: pour 1/2 cup of water over it and let sit for 40 minutes. Then put the gelatin on a low heat and heat until completely dissolved. Stir constantly while heating, do not bring to a boil. Cool slightly.
Defrost the berries, squeeze a little from the liquid, pour in the cognac and stir. Add half of the gelatin and stir again.
Whisk the sour cream with sugar until it is completely dissolved and mix with the remaining gelatin.
Collect the Drunken Cherry dessert in glasses in the following order: berries, sour cream, berries, cream. Refrigerate for 2-3 hours.
To decorate the dessert, prepare a sprinkle: fry the rolled oats in a dry frying pan with sugar. When the sugar starts to caramelize, remove the cereal from the heat and cool.
Sprinkle the finished Drunk Cherry dessert with flakes.
Also Like
Comments for "Dessert "Drunk Cherry""