Dessert with Cherries
by Editorial Staff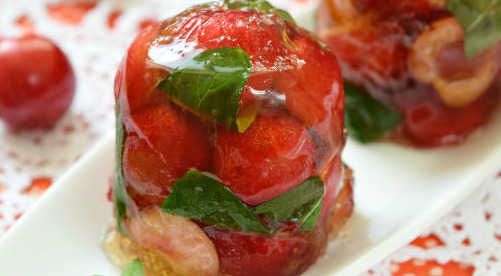 Dessert with cherries is quite easy to prepare. A minimal set of ingredients, quick results, and a great look of the finished delicacy will appeal to even those who cook for you. Melting grape jelly, tender juicy cherries, and cool mint will give you an unforgettable taste pleasure.
Ingredients
Cherry – 270 g (+/- 50 g)
Free-flowing instant gelatin – 1 tbsp
Grape juice (or white wine) – 200 ml
Mint – for presentation
How to make grape jelly with cherries:
Directions
Wash the cherries, blot with a napkin, and cut along the groove into 2-4 parts, while removing the seeds
Fill small glass containers (wine glasses, wine glasses, bowls, etc.) with prepared cherries and mint leaves.
Pour a couple of tablespoons of juice into a saucepan and heat well (not to a boil!). Pour powdered gelatin into the hot juice and stir until the grains are completely dissolved (3-4 minutes). Add the rest of the juice to the solution and stir well.
Pour the cherries with mint grape juice and gelatin.
Place dessert with cherries in the refrigerator on the lower shelf. After 30 minutes, lower the glasses of jelly for 15 seconds in a bowl of hot water. Gently draw a sharp nose of a knife along the walls of each glass, carefully separating the grape jelly. Turn the jelly-like dessert onto a plate and serve with mint leaves.
Enjoy your meal!
Also Like
Comments for "Dessert with Cherries"