Couscous with Tomatoes
by Editorial Staff
I really love using couscous in my cooking. It cooks quickly and goes well with any vegetables and spices. In this recipe, I'll show you how to make couscous with tomatoes.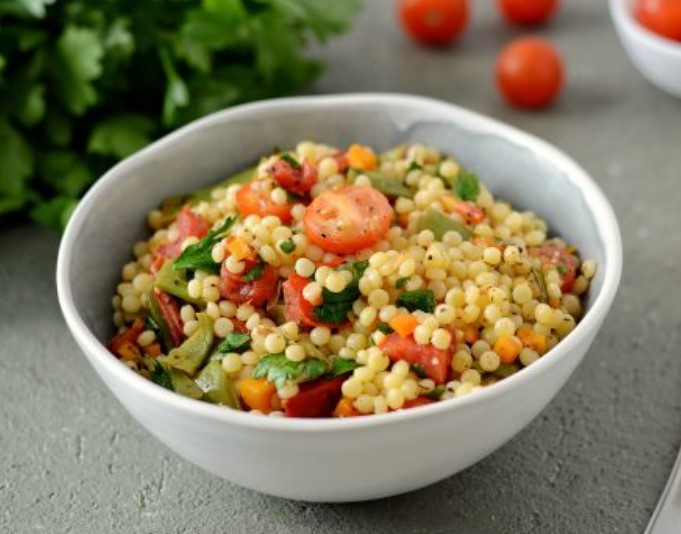 Cook: 45 mins
Servings: 1-2
Ingredients
Couscous – 100-120 Grams
Tomatoes – 100-120 Grams
Green beans – 100 Grams
Carrots – 1 Piece
Bulb onions – 1/2 Pieces
Garlic – 1 Clove
Parsley – 1/4 Bunch
Salt – To taste
Black pepper – To taste
Italian Herbs – To taste
Directions
Prepare all ingredients.
Boil the couscous in boiling salted water for 15-20 minutes.
Preheat a skillet over medium heat. Add finely chopped onions, garlic and carrots. Fry until soft.
Wash the green beans, dry them, cut them into 2–3 cm long slices. Simmer the beans under a closed lid for 5–6 minutes.
Cut the tomatoes into large slices. Cherry can be cut in half. Fry the tomatoes until soft.

Season with salt, pepper and sprinkle with Italian herbs. Mix well.
Finally, add couscous and finely chopped parsley. Stir again. Put it out together for another 3-4 minutes.
Couscous with tomatoes is ready,
Bon appetit!
Also Like
Comments for "Couscous with Tomatoes"