Couscous with Vegetables and Meat
by Editorial Staff
A very tasty and satisfying dish suitable for the whole family. Traditionally, couscous is steamed, but in a modern kitchen it is enough to boil the cereal with boiling water or quickly boil it in boiling water.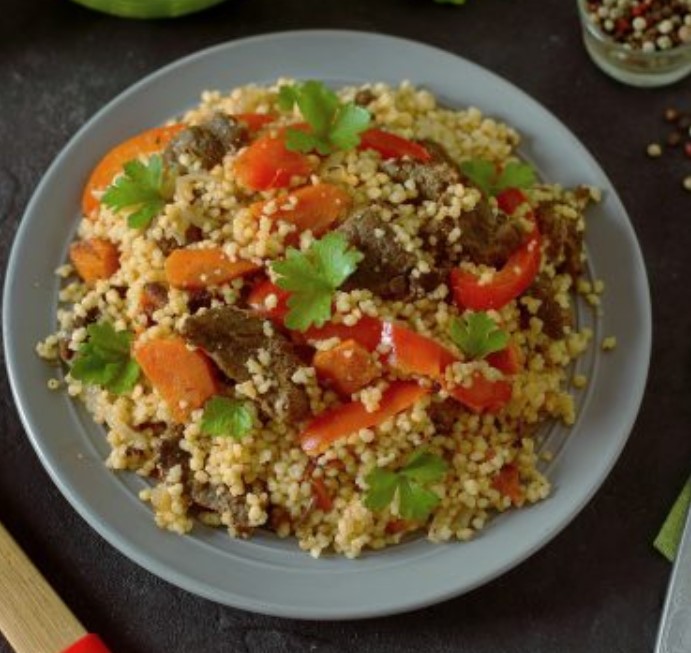 Cook: 1 hour
Servings: 6-8
Ingredients
Couscous – 1/2 Cup
Onion – 1 Piece
Carrots – 1 Piece
Sweet pepper – 1 Piece
Tomato – 1 Piece
Vegetable oil – 50 Milliliters
Meat – 400 Grams (any)
Salt – To taste
Spices – To taste
Directions
Prepare all ingredients.

For cooking it is better to take any dish with a thick bottom, I have a cauldron. Pour in butter, chop it and lay out the sliced ​​meat.
Fry the meat until cooked through. First, brown over high heat, and then add a small amount of water, bring over low heat until soft. Add salt and spices to taste in the process.
When the meat is done, add randomly chopped onions and carrots. Slicing can be any vegetables, I like larger ones.
Saute everything together until the vegetables are soft.
Add the julienned peppers and the sliced ​​tomato.
Simmer meat and vegetables for about 5 minutes.
Add couscous (no rinsing).
Add 1-1.5 cups of hot water. Adjust for salt, bring to a boil, turn off and let it brew for 5 minutes.
Couscous with vegetables and meat is ready.
Bon Appetit!
Also Like
Comments for "Couscous with Vegetables and Meat"