Couscous with Minced Meat
by Editorial Staff
Recipe for couscous with minced meat in a pan. Couscous does not require a long heat treatment, so the dish cooks quickly enough. It is very convenient to cook meat and garnish at the same time.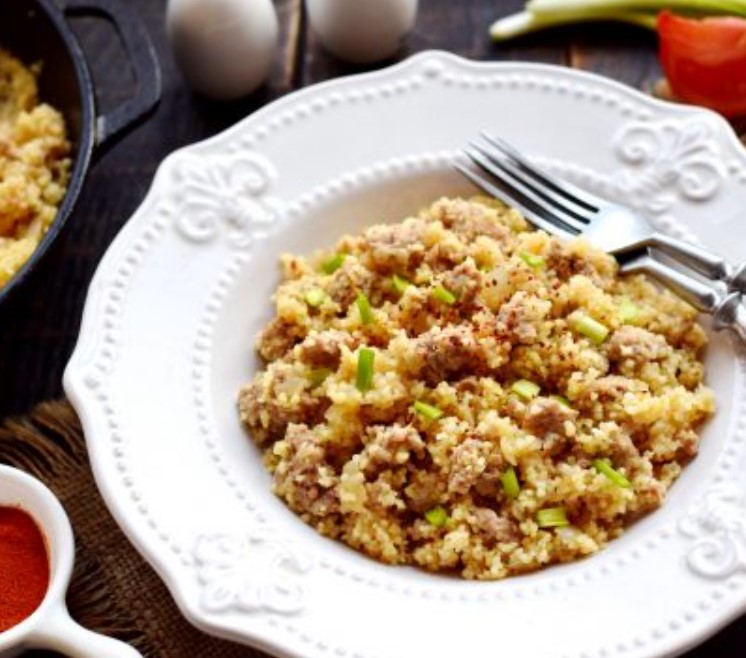 Cook: 30 mins
Servings: 3
Ingredients
Minced pork and beef – 200 Grams
Couscous – 100 Grams
Onions – 0.5 Pieces
Vegetable oil – 1
Butter – 20 Kilograms
Water – 1.5 Cups (or broth)
Salt – To taste
Ground pepper – To taste
Directions
Prepare your ingredients.

Cut the onion into small cubes, put in a preheated oil pan, fry over medium heat for 2 minutes until translucent.
Move the sautéed onions to one edge of the pan, pour a little more oil on an empty surface, put the minced meat.
Fry it separately for a few minutes, then stir with the onion, fry for 5 minutes. Stir the minced meat periodically with a spatula, while dividing large pieces into smaller pieces. Finally, season with ground pepper and salt.
Pour the meat with onions with water or broth, bring to a boil, boil for 1-2 minutes. Taste the soup and salt if necessary.
Pour the couscous into the pan, mix well, combining with the minced meat. You do not need to rinse this cereal. Set the pan aside from the stove, cover with a lid.
Infuse couscous for 5 minutes until the liquid is completely absorbed. Add butter at the end.

Transfer the couscous with minced meat to a plate, sprinkle with fresh herbs, serve.
Bon Appetit!
Also Like
Comments for "Couscous with Minced Meat"