Enchiladas with Minced Meat
by Editorial Staff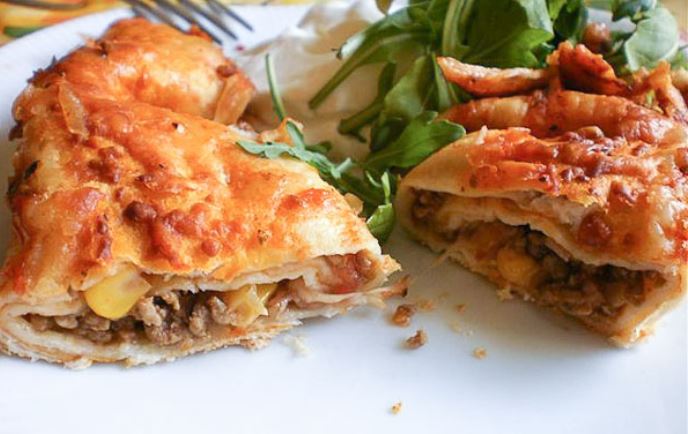 Enchiladas with minced meat is a good idea for a snack or dinner. Instead of corn or wheat cakes, you can use thin pita bread. Sour cream, guacamole, or salsa are served with ready-made hot enchiladas.
Ingredients
tortilla cakes (easily replaced with Armenian lavash)
minced beef – 500g
cheese (grated, hard) – 200g
corn (canned) – 1 can (small)
tomatoes – 3-4 good ripe (or 1 can of tomatoes in their own juice)
onion
garlic
spices (paprika, chili pepper, cayenne pepper, cumin (cumin), oregano (oregano), salt) – to
taste
vegetable oil for frying.
Directions
Fry chopped onion with garlic on a spoon of oil until transparent, add minced meat, fry together. As all the moisture boils off and the minced meat begins to fry, add all the spices, mix.
Pour the tomatoes. Add corn. Stir and simmer together for 5 minutes. We turn on the oven at 200C. We start collecting enchiladas. Filling, cheese, wrap and fold. Brush the enchiladas with regular tomato sauce.
Sprinkle with the remaining cheese. Put the enchiladas in the oven, covered with foil, for 15 minutes. Remove the foil and fry the cheese for another 10 minutes. Done!
Also Like
Comments for "Enchiladas with Minced Meat"