Burrito with Minced Meat
by Editorial Staff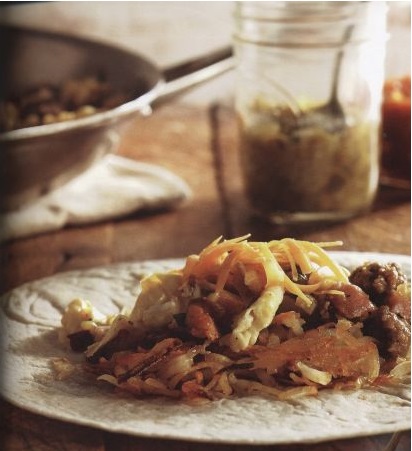 Mexican food recipe. Burrito (burrito) is a wheat tortilla (tortilla) wrapped in all kinds of toppings, such as minced meat, refried beans, rice, tomatoes, avocado, or cheese.
Cook: 1 hour 30 minutes
Servings: 4
Ingredients
Potatoes – 400-500 g
Chicken eggs – 3 pcs.
Milk – 2 tbsp
Butter – 2 tbsp
Garlic – 1 clove
Ground cumin – 0.25 teaspoon
Ground black pepper – 1/8 teaspoon
Canned green chili pepper – 100-125 g
Tortilla cakes with a diameter of 25 cm – 4 pcs.
Grated cheddar cheese – 2/3 cup
or grated Monterey Jack cheese
Minced pork with spices – 900 g
Ham – 500 g
Bacon – 225 g
Bulb onions – 3 pcs.
Garlic – 4 cloves
Parsley – 1 bunch
Ground black pepper – 0.5 teaspoon
Directions
Prepare the meat filling. Chop bacon and ham.
Finely chop the onion. Chop the garlic. Wash and chop the parsley.
Fry the bacon in a large skillet over medium heat until crispy.
Place the bacon on a paper towel with a slotted spoon and pat dry. Drain the bacon fat from the pan; you don't need it.
Reheat the frying pan over medium heat, add the minced meat, onion and garlic. Cook, stirring occasionally until the meat is browned.
Add bacon, ham, parsley and black pepper and stir. Refrigerate. We need 1 glass of prepared minced meat. The rest of the minced meat can be decomposed in portions and frozen (frozen minced meat can be stored for 3 months).
Peel, wash and grate potatoes.
In a skillet over medium heat, melt 1 tbsp of oil. Mix potatoes, garlic and cumin. Arrange the potatoes in an even layer, press them to the pan with a spatula. Fry for 6-7 minutes, until golden brown.
Turn over and press down again. Fry for another 6-8 minutes, until crispy. Remove from heat. Keep warm.
Beat eggs, milk, and pepper.
Heat the pan again, melt the remaining 1 tablespoon. a spoonful of oil over medium heat. Pour the egg mixture. Cook, without stirring, until the bottom of the egg mixture begins to set. Using a spatula, lift and turn the eggs so that the wet part of the glass is down.
Add prepared minced meat and chili peppers, stir. Cook for another 2-3 minutes, until the eggs are done.
Wrap tortilla cakes in parchment paper or paper towels and microwave at full power for 30 seconds.
Distribute the potatoes by placing them in the center of each tortilla. Put the egg mixture on top. Sprinkle with cheese. Roll the tortillas into rolls. Sometimes salad, sour cream, and salsa sauce (based on chili pepper) are added to the filling.
Enjoy your meal!
Also Like
Comments for "Burrito with Minced Meat"