Cucumber Salad with Olives and Herbs
by Editorial Staff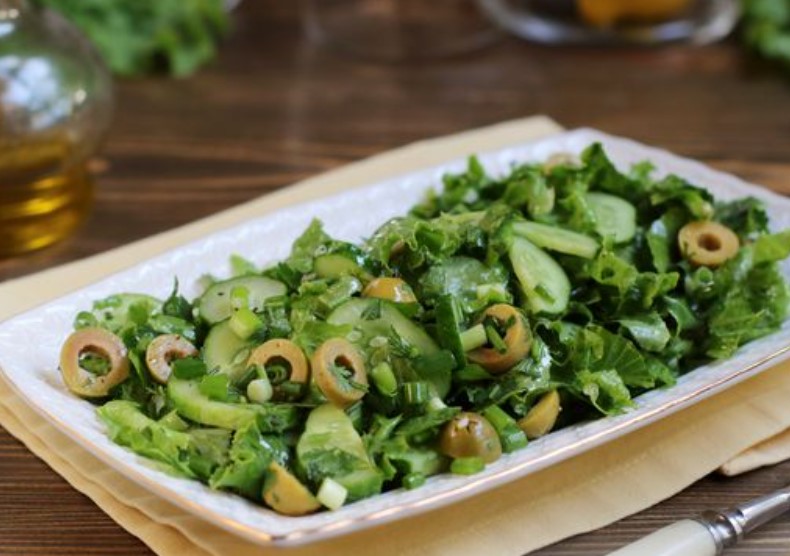 Cucumber salad with olives and herbs is a very easy dish that even a novice housewife can handle. A minimum of food and effort – and a great vitamin salad on your table.
Cook: 20 mins
Servings: 2
Ingredients
Small cucumbers – 3 pcs.
Pitted olives – 30 g
Lettuce leaves – 8 pcs.
Green onions – 3 pcs.
Fresh parsley – 5-7 branches
Fresh cilantro – 5-7 branches
Garlic – 1 clove
Olive oil – 2 tbsp
Lemon juice – 1 tbsp
Salt to taste
Ground black pepper – to taste
Directions
We prepare all the necessary products. Rinse all the greens thoroughly and dry them on a towel.

Tear lettuce leaves into small pieces with our hands. It is not advised to cut such leafy greens with a knife, because then it very quickly loses its juiciness and appearance.
Cut off the tails of cucumbers. Cut the cucumbers into semicircles and put them in a salad bowl.
Finely chop the green onion and transfer to the salad bowl.
We also chop parsley and cilantro.
After all the salad greens have been cut, cut the olives into rings. Peel and squeeze the garlic through a press. For dressing, mix together garlic, olive oil, lemon juice, salt and pepper.
Pour the dressing into a salad bowl and send the chopped olives there. Mix quickly.

Transfer the cucumber salad with olives and herbs to a large plate and serve immediately after cooking so that the herbs do not wilt. Such a salad can be safely eaten without restrictions without fear for your figure!
Bon Appetit!
Also Like
Comments for "Cucumber Salad with Olives and Herbs"