Double Baked Potatoes
by Editorial Staff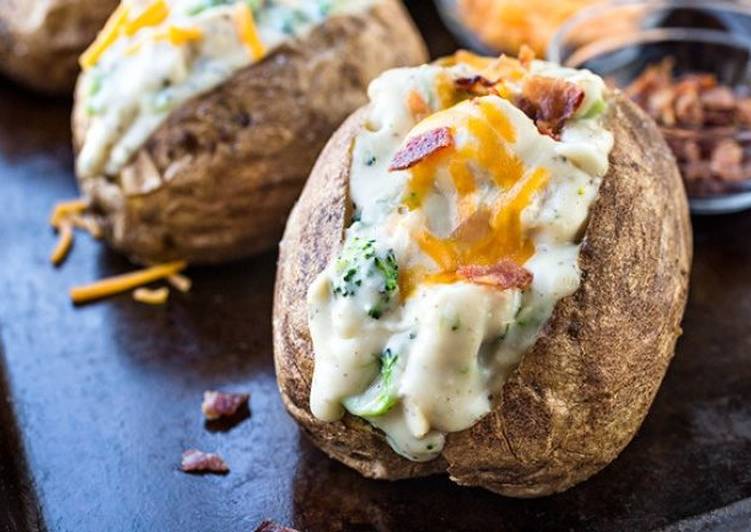 I really like this serving of baked potatoes. First, the tubers are baked whole in the oven, and then the pulp of the potato is mixed with sour cream and cream, and the same baked potato is filled with this mixture. Back in the oven until golden brown. Delight!
Ingredients
Large, crumbly potatoes – 4 pcs. (230 g each tuber)
Unsalted butter at room temperature – 3 1/2 tbsp
Fat sour cream – 1/2 cup
Cream 10-12% (warm) – 1/4 cup
Chives (chopped) – 2 tbsp
Ground white pepper to taste
Salt to taste
Directions
Place the grate in the oven in the middle position, and turn on the oven itself for preheating to 180 degrees. Wash the potatoes and dry them with a towel. Place the potatoes on a wire rack and bake until soft, about 1 hour. Transfer the baked potatoes to the table and let cool for 10-15 minutes.
Cut each potato in half, holding one half in hand, and use a spoon to remove the flesh from the other. Leave the base about 0.5 cm thick. Make such boats from all halves of baked potatoes. Mash the potato pulp well with a potato grinder.
With a wooden spoon, add 3 tablespoons of butter, sour cream, and cream to the potatoes, add 3/4 teaspoon of salt and white pepper to taste, stir well. Add onions and add more spices if necessary.
Fill the baked potato halves with the resulting potato mass, compacting and making a corrugated pattern with a fork. Put a little of the remaining butter on top of each potato half.
Preheat the oven to 200 degrees. Place the filled potato halves on a baking sheet or other ovenproof dish and bake for about 25-30 minutes. Let the baked potatoes stand at room temperature for 10 minutes before serving.
Also Like
Comments for "Double Baked Potatoes"