Eggplant Rolls Marinated in Tomato Sauce
by Editorial Staff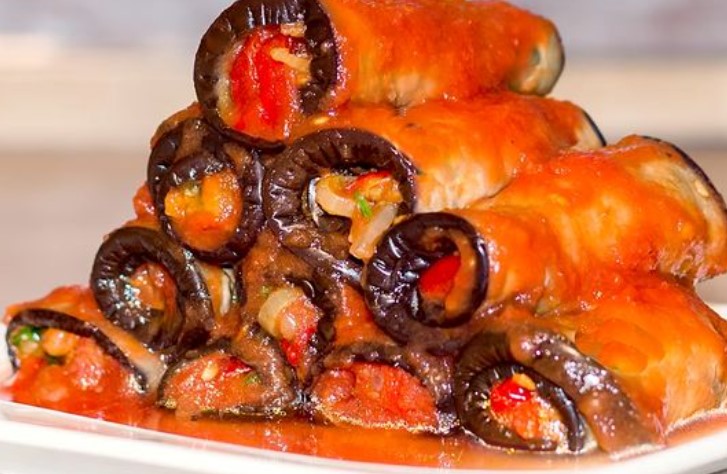 This eggplant appetizer is good because it can be prepared for a festive table as well as for a regular menu. Eggplant rolls with vegetable filling, in tomato marinade, can be prepared 1-2 weeks before the holiday, or you can eat them after a couple of days.
Ingredients
Eggplant – 2 pcs.
Canned tomatoes in their own juice (or fresh) – 800 g
Sweet pepper – 1 pc.
Carrots – 1 pc.
Bulb onions – 1 pc.
Fresh hot peppers – 0.5 pcs.
Garlic – 2 cloves
Fresh parsley (or cilantro) – 1 bunch
Salt to taste
Sugar to taste
Ground black pepper – to taste
Vegetable oil
Directions
Prepare foods for making eggplant snacks.

Cut the eggplants lengthwise into thin strips.
Soak the eggplant in cold salted water for half an hour. You can press something on the eggplants so that they are completely submerged in the water.
Peel the bell peppers and cut into thin strips. Remove seeds from hot peppers, finely chop the pepper. Grate carrots on a coarse grater. Chop the garlic with a knife or grate. Cut the onion into quarters or half rings (depending on size).
Mix tomatoes in their own juice with salt and sugar. If acid is not enough, lemon juice or vinegar can be added.
Fry the garlic very quickly in a preheated pan with vegetable oil. Put onion immediately. Fry the onion until transparent.
Add the grated carrots to the onion and garlic and fry for 1 minute.
Then add hot and sweet peppers. Fry for another 7-8 minutes.
Season with salt and pepper as desired and heat for another 1 minute. Turn off heating and add greens. Mix. The vegetable filling for the eggplant is ready.

Drain the water from the eggplant. Arrange the eggplants on a parchment-lined baking sheet. Grease the eggplant with vegetable oil on top.
Bake the eggplants in the oven at 200 ° C for 15 minutes.
Cover the bottom of any shape with cooked tomato sauce (marinade).
Wrap the vegetable filling in eggplant in such a way that rolls are obtained. Place the eggplant rolls seam side down in the marinade.

Pour tomato marinade over each layer of stuffed eggplant.
Cover the eggplant in tomato marinade with a lid or cling film (make several punctures in the film) and put the eggplant snack in the refrigerator for a day or two, no less.
Eggplant rolls with vegetable filling, marinated in tomato sauce, ready.
Bon Appetit!
Also Like
Comments for "Eggplant Rolls Marinated in Tomato Sauce"