Eggplant Rolls with Filling, in Tomato Sauce
by Editorial Staff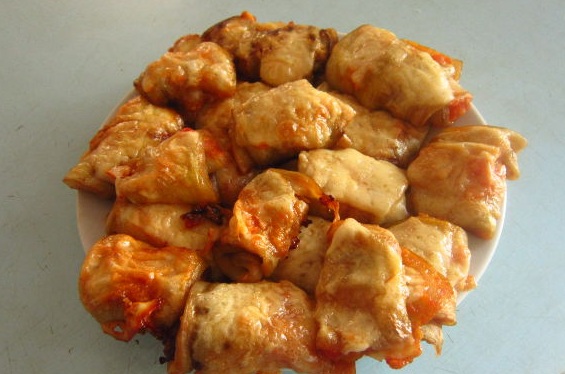 Eggplant rolls are a delicious and quick hot snack that makes a good addition to other dishes!
Ingredients
Eggplant
Tomatoes
Garlic
Vegetable oil
Carrot
Onion
Salt
Directions
Wash the eggplants, remove the bases of the stalks, cut along thin plates.
Fry the eggplants in vegetable oil on both sides until golden brown. Place the fried eggplants on paper towels to absorb the fat.
Cooking the filling. Peel and finely chop the onion, grate the carrots. Fry onions and carrots in a skillet in hot vegetable oil, salt.
Cooking tomato sauce. Pour boiling water over the tomatoes, peel, and chop (in a meat grinder or blender). Put the tomato mass in a saucepan and cook, stirring occasionally, over medium heat. Peel the garlic, pass through a press, add to the tomato mass, salt to taste, boil and remove from heat.
Spread the filling evenly on the plates of cooled eggplants and wrap the rolls.
We spread the rolls on a baking sheet, pour over with tomato sauce, sprinkle with grated cheese, put the eggplant rolls in the oven, and bake for 10-15 minutes. The second option: pour the eggplant plates with the resulting tomato sauce (without adding carrots and onions), sprinkle with cheese, wrap – it's also very tasty! Bon appetite!
Also Like
Comments for "Eggplant Rolls with Filling, in Tomato Sauce"