"False" Chicken Legs
by Editorial Staff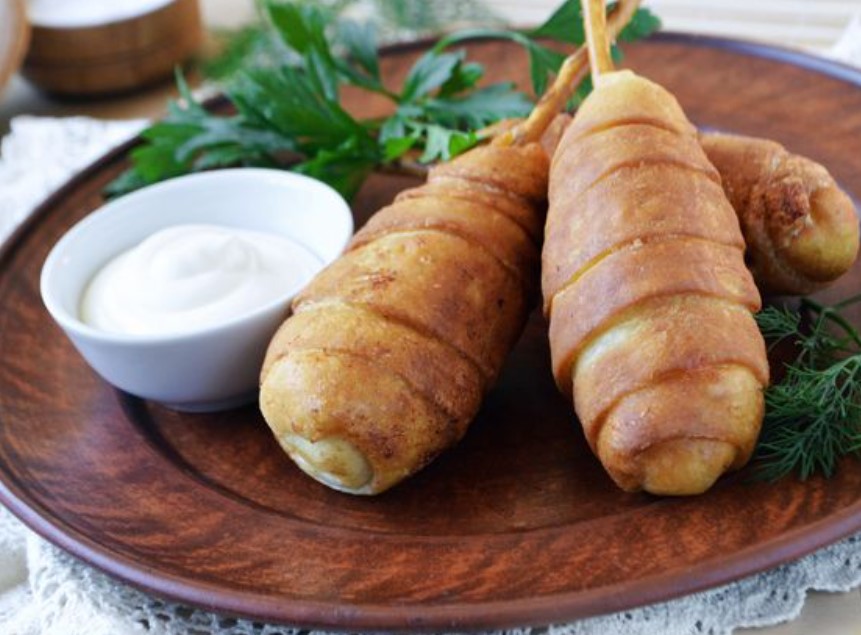 There are friendly gatherings ahead and you want to surprise your guests with an unusual dish? Prepare the "false" chicken legs. This appetizer is fried chicken cutlets in dough. Friends are guaranteed to be delighted.
Ingredients
Chicken fillet – 450 g
Bulb onions – 1 pc.
Flour – 250 g
Kefir – 100 ml
Soda – 0.5 teaspoon.
Salted straws – 1 small pack
Salt to taste
Ground black pepper – to taste
Vegetable oil – for frying
Directions
Prepare the required products for cooking "false" chicken legs.

Pour kefir into a cup, pour soda into it and stir. Wait a couple of minutes for the fermented milk mass to extinguish the soda.
Then season to taste with salt and start adding flour.
Knead a soft, but dense enough dough on kefir. Flour may be required either a little more, or a little less, since it is different for everyone.
Twist the chicken meat and onions in a meat grinder.
Add salt and season with pepper.
Knead well and put in the cold for a while.
Roll out the dough into a thin rectangular layer.
Then, along the long side, cut the layer into strips about 2.5 cm wide.
Take out the cooled minced meat, moisten your hands with water and form small oblong cutlets into which you stick sticks-straws.

Then wrap all the minced meat blanks with dough, twisting the prepared strips in a spiral with an overlap.
Fry the cutlets in a dough in a pan, in a sufficient amount of refined oil, until cooked. Set the fire slightly below average and periodically rotate the legs during frying so that they are evenly browned. If you set the heat to a higher level, the dough will brown faster than the meat filling is done.
The cutlets in the dough are ready – juicy on the inside, brown on the outside, and the taste is simply incomparable. Serve "false" chicken legs with any sauce.
Bon Appetit!
Also Like
Comments for ""False" Chicken Legs"