Fish with Tomato Sauce with Carrots and Leeks
by Editorial Staff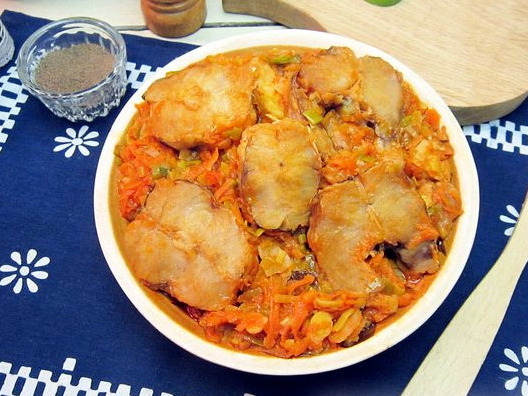 Fish prepared in this way is juicy, aromatic, and very tasty. White fish is stewed with vegetables and tomato. The dish is quite simple to prepare and goes well with many side dishes.
Ingredients
White fish (hake, cod, tilapia) – 600 g
Carrots – 300 g
Leeks – 300 g
Flour – 110 g
Tomato paste – 3 tbsp
Vegetable oil – 45 ml
Vinegar 9% – 1 teaspoon (5 ml)
Ground black pepper – to taste
Salt to taste
Directions
If the carcass has fins, remove them, then rinse the carcass and cut into fillets or simply cut into small pieces.

Dip the pieces of fish in 100 g of flour.
Fry the fish in a pan with 2 tablespoon. tablespoons of vegetable oil for 1-2 minutes on each side. We take out the fish from the pan.
Cut the leeks into rings, and grate the carrots on a coarse grater.
In a frying pan with 2 tablespoon. fry vegetables with spoons of vegetable oil for about 5 minutes.
Then add 2 teaspoons of flour (10 g), tomato paste, vinegar, black pepper, and salt to the pan.
Mix vegetables and simmer for another 5 minutes.
Combine fish with vegetables.
Add 300 ml of water to the pan and simmer everything over low heat for 20 minutes, covering with a lid.

Ready fish with tomato sauce should be allowed to cool until warm and can be served.
Enjoy your meal!
Also Like
Comments for "Fish with Tomato Sauce with Carrots and Leeks"