French Soup with Onions
by Editorial Staff
Forget your notions of soups! This recipe will turn your culinary mind upside down, if, of course, you have not tried it before. The main ingredient rarely gives a clear taste, but here it played.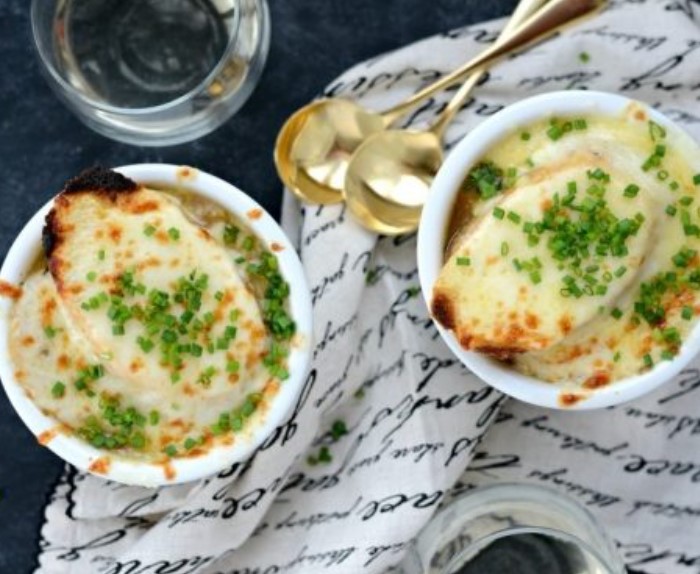 Cook: 2 hours 15 mins
Servings: 6
Ingredients
Onions – 1500 Gram
Wine – 120 Milliliters (dry red)
Beef Broth – 1300 Milliliters
Chicken Broth – 1300 Milliliters
Cheese "Gruyere" – 200 Gram
French Baguette – 12 Slices
Bay leaf – 2 pieces
Fresh thyme – 2 pieces (twig)
Garlic – 3 Cloves
Ground black pepper – To taste
Salt – To taste
Butter – 4 Tbsp. spoons
Directions
First, peel and chop the onion into thin half rings.
Heat oil in a heavy-bottomed saucepan. Then lay out the onion.
Then add thyme, bay leaves, salt, pepper and minced garlic.
Simmer the ingredients together over medium heat for 30 minutes, stirring occasionally.
Reduce heat to low. Simmer the onion for the first 15 minutes, stirring occasionally. Then don't touch it for another 30 minutes.
Then increase heat to medium. And cook for another 15 minutes to caramelize the onion. Get in the way sometimes.

Next, pour wine and both types of broth into a saucepan. Mix everything. Cook the soup for 30 minutes.
Meanwhile, grate the cheese coarsely and chop the baguette
Then pour most of the soup into special soup tins for baking. Place a slice of bread on top.
Add half of the cheese. Pour in the remaining soup.
Put the baguette again and top with the remaining cheese.
Bake the dish for 2 minutes in the oven at 180 degrees.
Serve onion soup with herbs.
Bon Appetit!
Also Like
Comments for "French Soup with Onions"