Fried Eggs in Potatoes
by Editorial Staff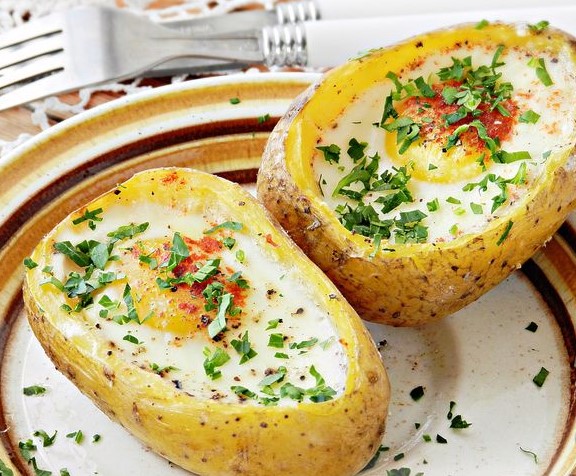 Fried eggs in potatoes is a simple, quick and very satisfying dish. If you still have boiled or baked potatoes, feel free to get down to business – an original and delicious breakfast or snack is guaranteed.
Ingredients
Potatoes (large) – 2 pcs.
Eggs – 2 pcs.
Ground paprika – 1/3 teaspoon
Salt to taste
Ground black pepper – to taste
Vegetable oil – for greasing the baking sheet
Fresh parsley (optional) – 2 sprigs
Directions
Ingredients for cooking fried eggs in potatoes
Wash the potatoes well, put them in a saucepan and cover with water. Cook potatoes over moderate heat until tender, depending on the variety, about 15-20 minutes. Then drain the water, rinse the potatoes with cold water and cool.
The finished potatoes can be peeled or left in the skins – at your discretion. Cut the top off the potato, carefully select the middle with a teaspoon.
Turn on the oven to heat up to 180 degrees. Grease a baking dish or baking sheet with a little vegetable oil. Put the potato boats, salt.
Drive one egg into each potato boat. If the eggs are large, separate the whites from the yolks and lay out the yolk first, and then pour in the whites that will fit.

Sprinkle eggs with ground paprika and black pepper on top. Send potato boats with eggs to the upper level of the oven, preheated to 180 degrees.
Bake eggs until desired, about 10-15 minutes.
If desired, finely chop the parsley leaves and sprinkle the cooked eggs in the potatoes before serving.
Enjoy your meal!
Also Like
Comments for "Fried Eggs in Potatoes"