Fried Potatoes with Bacon and Egg
by Editorial Staff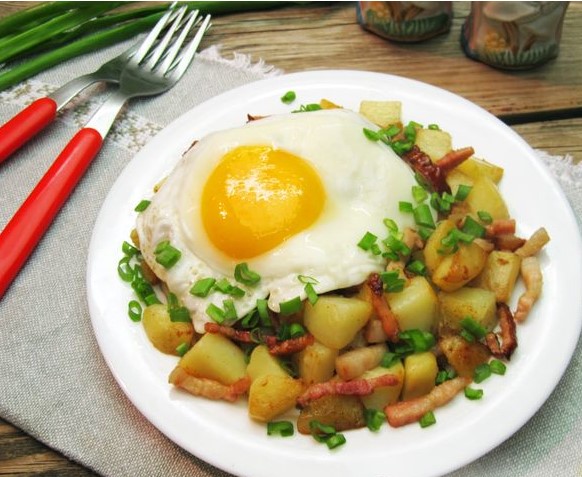 Fried potatoes with bacon and egg are the perfect combination for everyone who loves to eat tasty and satisfying food. Fried ruddy potatoes and crispy, aromatic bacon are complemented by a fried egg and green onions. This delicious dish is easy to prepare!
Servings: 3
Ingredients
Potatoes – 500 g
Cooked-smoked bacon – 250 g
Eggs – 3 pcs.
Salt to taste
Ground black pepper – to taste
Vegetable oil (for frying) – 30 ml (2 tablespoons)
Green onions (for serving) – 20 g
Directions
Cut the bacon into strips. Wash potatoes, peel, and cut into small cubes. Fry bacon in a frying pan preheated with vegetable oil (1 tbsp) until golden brown and until the fat is melted. If the bacon is too fat, you don't need to text the butter. Transfer the finished bacon to a plate.
Start from bacon to fat, fry the potatoes over the remaining heat, stirring for 10-15 minutes, until tender and often golden brown. Put the bacon on top of the potatoes. Stir potatoes with bacon, salt, and pepper to taste.

Cook the potatoes with bacon over low heat for another 5 minutes, stirring constantly. Remove the pan from the heat and cover with a lid. Fry eggs separately. Pour the egg into a frying pan preheated with the remaining oil.

Reduce the heat, add some salt to the egg and fry until the protein sets for 3-4 minutes. So fry the remaining eggs (you can fry all the eggs in the pan at the same time).
Put the potatoes with bacon on a plate, on top – a fried egg. Sprinkle with chopped green onions. Fried potatoes with bacon and egg are ready. Enjoy your meal!
Also Like
Comments for "Fried Potatoes with Bacon and Egg"