Grilled Vegetables with Herbs
by Editorial Staff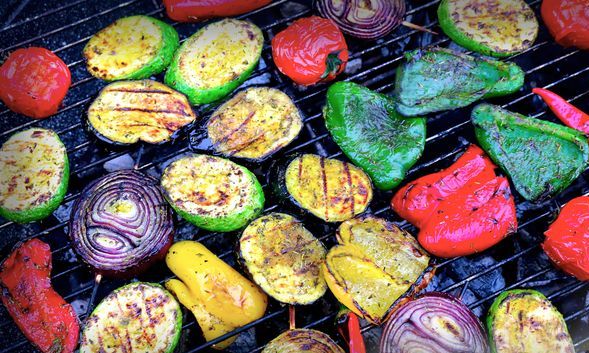 I present to you a recipe for making a simple garnish of vegetables on charcoal. Grilled vegetables are delicious on their own, but I like to marinate them in a mixture of olive oil and aromatic herbs before cooking. This makes them even tastier!
Ingredients
Young zucchini – 2 pcs.
Young eggplants – 2 pcs.
Bulb onions – 2 pcs.
Bulgarian pepper – 3 pcs.
Tomatoes – 4 pcs.
Chilli peppers – 4 pcs.
Olive oil – 3-4 tbsp
Hops-suneli – 2 teaspoon
Dried thyme – 2 teaspoon
Freshly ground black pepper – to taste
Salt to taste
Directions
First, you need to prepare the vegetables and marinate them.

Cut the eggplants into circles. I prefer to cut them thicker – about one and a half to two centimetermetres.
Cut the zucchini in the same way.
Peel the onions. And cut into circles. With him, too, "small" is not necessary.
We put onions on skewers so that the rings do not fall apart when grilling.
So that the skewers are not too long and do not interfere with cooking, I cut them with a pruner.
Remove the core from the bell pepper, then cut it into 4 pieces.
Tomatoes don't need any special preparation, they just need to be washed. Do the same with red chilli peppers.

Let's move on to preparing a mixture for pickling vegetables. In a deep bowl, mix the surely hops, thyme, salt and freshly ground pepper. Pour the spices with olive oil. Mix the contents of the bowl.
We transfer vegetables to a deep bowl. Fill them with a mixture of oil and aromatic herbs. We distribute the mixture evenly over the entire surface of the vegetables (except for tomatoes and chilli peppers – we will not marinate them, because we did not cut the skin in any way, and the marinade simply will not penetrate inside). Leave the vegetables to marinate for 15 minutes.
Grilling coals. While I was preparing the grill, another 10-15 minutes passed, which means that the vegetables were completely marinated. Not immediately, already in slight heat, without fear that they will burn, we spread the vegetables on the grill. After about 4-5 minutes, turn the vegetables over and grill for the same amount of time.
Grilled vegetables are ready.


Bon Appetit!
Also Like
Comments for "Grilled Vegetables with Herbs"