Hummus with Additives
by Editorial Staff
Hummus is a great snack for all occasions. In order to serve hummus, it is enough to have any chips or croutons at home.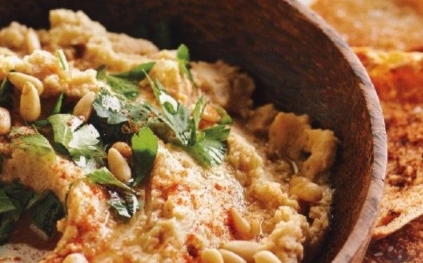 Cook: 15 mins
Ingredients
Boiled chickpeas (chickpeas) (washed and drained) – 420 g
Garlic (minced) – 1 clove
Tahini pasta (sesame) – 0.25 cups
Lemon juice – 0.25 cups
Olive oil – 0.25 cups
Salt – 0.5 teaspoon.
Ground paprika – 0.25 teaspoon
Fresh parsley (chopped) – 1 tbsp
Olive oil for serving (optional)
Pine nuts (fried) – 2 tbsp
Pita or vegetable chips to serve (optional)
Additives to hummus (optional, optional):
Green onions (chopped) – 0.25 cups
Pitted olives (chopped) – 1/3 cup
Baked Bulgarian pepper (chopped) – 1/3 cup
Basil pesto sauce – 0.25 cups
Fresh dill (chopped) – 1 tbsp
Directions
Combine chickpeas, garlic, tahini, lemon juice, ¼ cup olive oil, salt, and paprika in a bowl of a kitchen processor, pulsate until smooth.
Add one or more additives to hummus, mix.
Serve in small bowls, sprinkled with parsley and pine nuts. You can drizzle with a little olive oil. Serve hummus with pita bread or chips well.
Enjoy your meal!
Also Like
Comments for "Hummus with Additives"