Italian-Style Stuffed Potatoes
by Editorial Staff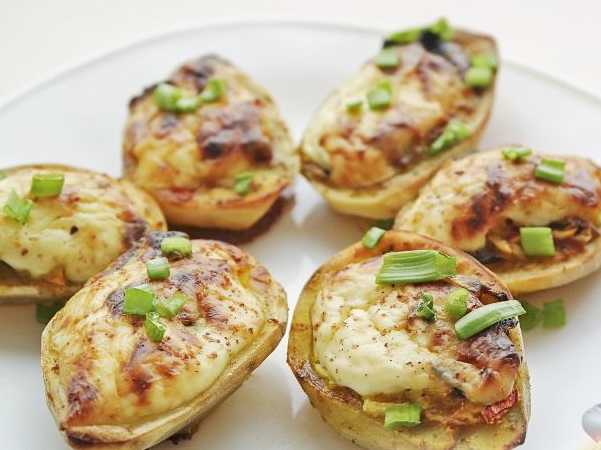 Italians have a special recipe for stuffed potatoes. The cooks of this country stuff it with a dry mixture of herbs and mushrooms in a beaten egg. It is served as a side dish with baked meat or grilled seafood.
Ingredients
Potatoes – 3 pcs.
Chicken eggs – 1-2 pcs.
Bulb onions – 1 pc.
Lemon (small) – 1/2 pc.
Ginger (root) – 3 cm
Hot chili pepper (red) – 1/2 pc.
Garlic – 2 cloves
Rosemary (dry) – pinch of needles
Dried mushrooms (collection) – 20 g
Turmeric – 1/2 teaspoon
Walnuts – 3 pcs.
Nutmeg – 1 pc.
Sour cream 15% – 3 tbsp
Salt to taste
Vegetable oil – a little
Directions
First, you need to peel the potatoes. Then cut it in half lengthwise. And in each half with a knife, cut out recesses more sharply. The potato pulp from the grooves will need to be chopped.

Cut the peeled ginger root into thin slices. Finely chop the nut kernels. Peel the onions, cut into cubes. Chop the chili pepper.
Steam dry mushrooms for a quarter of an hour in boiling water with garlic, lemon juice, rosemary, salt. Remove almost finished and cooled mushrooms from the marinade, squeeze, and finely chop.
In a bowl, combine chopped nuts, chopped chili, chopped mushrooms and potatoes. Add a raw egg (or two, if the stuffed potatoes are large), sprinkle with turmeric.
Beat the filling with a culinary whisk. And stuff the prepared potato halves with it.
Place the already stuffed potatoes in a greased dish. And on top of each half of the potato, put half an st. l. sour cream. And then sprinkle with grated nutmeg. Send the dish to bake in an oven heated to 200 ° C. Cook for 20-25 minutes (again, depending on the size of the potatoes).

Serve the Italian-style stuffed potatoes hot. And you can lightly sprinkle it with chopped herbs (dill, parsley) or finely chopped green onions.
Enjoy your meal!
Also Like
Comments for "Italian-Style Stuffed Potatoes"