Jambalaya
by Editorial Staff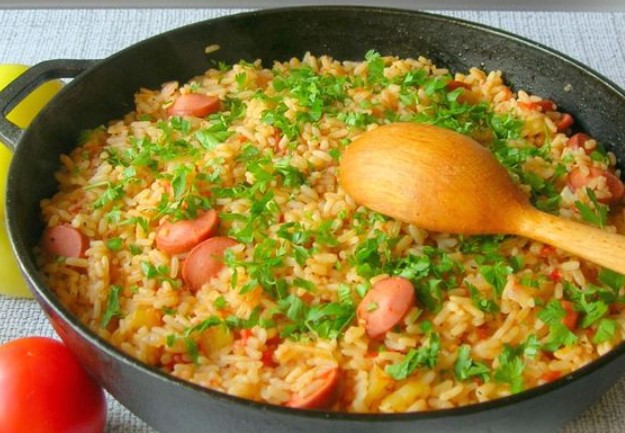 Today I am preparing a simple, tasty and hearty American dish based on rice – jambalaya. This is a Louisiana Creole dish. There are a huge number of recipes for making jambalaya, like our borscht. 🙂 The dish is democratic, it is allowed to replace some ingredients with others. Rice and tomatoes remain unchanged ingredients of jambalaya. If you love such simple recipes for lunch or dinner, then this recipe is for you!
Cook: 1 hour
Servings: 6
Ingredients
Sausages (preferably smoked or smoked) – 400 g
Rice – 350 g
Bulb onions – 1 pc.
Bulgarian pepper – 200 g
Tomatoes – 300 g
Garlic – 2 cloves
Tomato paste – 1 tbsp
Vegetable oil – 60 ml
Fresh parsley – 1 bunch
Salt to taste
Ground black pepper – to taste
Directions
We prepare the necessary ingredients.

We make cross-shaped cuts on the tomatoes. Pour boiling water over the tomatoes and set aside while we deal with other vegetables.
Cut the peeled onion into small cubes. Finely chop the peeled garlic with a knife.
Free the sweet bell pepper from the stalks and seeds and cut into small pieces.
Peel the tomatoes and cut into cubes.
We clean the sausages from the packaging film and cut into circles.
Fry sausages in vegetable oil. We set aside for now.
In the dishes in which we will cook jambalaya (a deep frying pan or stewpan is suitable), we heat the vegetable oil. Fry the onion until transparent.
Add bell peppers to the onion and fry lightly.
Add tomatoes, garlic and tomato paste. Salt and pepper.
Add sausages and rice there. Mix and fill with hot water. The water should be about 1.5-2 cm higher than the contents of the frying pan or stewpan.Reduce the heat, cover and simmer until the rice is cooked.

Sprinkle the finished dish with chopped parsley.
Enjoy your meal!
Also Like
Comments for "Jambalaya"