Central Asian Jambalaya
by Editorial Staff
Today the subject of our conversation is cheerful jambalaya. For some – a kind of Central Asian pilaf, for others – a parody of Spanish paella. She is not going to live up to anyone's expectations, she is jambalaya.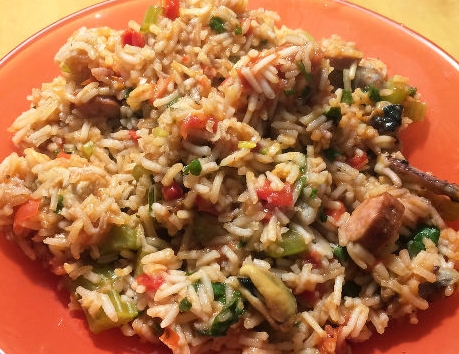 Cook: 1 hour 40 mins
Servings: 6
Ingredients
Rice (basmati) – 500 g
Hunting sausages – 3-4 pcs.
Chicken thighs – 500 g
Seafood – to taste, about 500 g
Bulgarian pepper – 1 pc.
Petiole celery – 2 pcs.
Onions, medium – 1 pc.
Garlic – 4 cloves
Canned tomatoes – 1 can
Chicken broth – 2 cups
Fresh parsley – 1 bunch
Vegetable oil
Salt
Pepper mix
Thyme
Kumin
Directions
First, we need the so-called "Cajun trio" – pepper, onion and celery. In our case, take Hungarian bell peppers and stalked celery and chop them. A couple of peppers and three or four petioles. Traditionally, the pepper should be green, but I had a red one – I don't think that this dish somehow suffered much from this.

Also clean and chop a medium onion. We do not need too many onions – that's something, and it is not so easy to dry jambalaya. There is where to get juices. On this score, there are even long-standing disputes – it should be dry or slightly damp. We will keep in the fairway, somewhere in the middle of these two banks.
We also need a smoked note in our bouquet. Some kind of smoked sausages or sausages. You can at least Krakow sausage, if there is one and you like it. What kind of authenticity can there be? This is not chorizo ​​or salami, we know very little about the Louisiana sausage industry. So I bought some hunting sausages and cut them like this – with wheels. And peeled a few cloves of garlic. Where without it, then.
In Jambalaya many different things are mixed. You can use pork or turkey. And I took the chicken. I like the harmful red meat from chicken thighs more, so I cut it from the bones. Little. Here, like in a lagman – just a little bit, but in the end a full vat of food for half a prison, as one friend of mine says.
Well, now is the time to move on to the stove, where a small cauldron is already warming up. We pour sunflower oil into it and wait a little. And then we begin to methodically fry the onions. The fire is not too big, otherwise it will burn.
Garlic is sent to the cauldron for onions. Here it is very quickly and stirring often – it is very easy to burn the garlic. And no one likes burnt garlic – neither on the other side of the ocean, nor on this one.
The onions became transparent, the garlic gave off a smell – this is the moment to add celery and pepper to them. Continue stirring and frying for an amazing aroma. We inhale the smells and hum.
Two minutes later, our chicken sinks into the cauldron. It needs to be fried until completely white, but at the same time do not burn everything else. Train what I can … You can't go anywhere, all things will wait.
Somewhere in the middle of the readiness of the chicken, you can enjoy the picturesque colors inside the cauldron, and throw sausages there. Let it also give off its smoky smell. Look – it already looks like you can eat it right away. Yes, you can. But the Creoles and Cajuns won't approve. Continue working with a slotted spoon.
When our chicken has become completely white, and in general everything has become very pleasant in the cauldron, you can introduce rice. It's easy with rice. Firstly, it can be any – this is not pilaf for you, everything is easier here. There is even a variation when already pre-cooked "yesterday" rice is added to jambalaya. But you can also fresh. I just found half a kilo of basmati. We wash it quickly – there is no need to soak it, this is not provided here. We drain the water and put the rice into the cauldron. Let the excess moisture come out of it, you can even fry it for a couple of minutes, stirring constantly. Only turn down the fire.
We need our jambalaya not to squelch like in the forest on a cloudy day. We are not planning to saturate rice with water. Not with water, but with pre-prepared broth, which I forgot to tell you about. It was necessary to cook it in advance. Well, or have it in the fridge if you are an advanced cook. Always helpful.
So take the broth straight and pour everything so that it covers the rice a little. Do not pour too much, it is better to add later if necessary. Pour, bring to a boil and cook. It is useful to stir sometimes, the gas is not strong, the lid can be closed. The rice should absorb it quickly. By the way, this is the same time to season jambalaya. Here, of course, salt will help us. And also a mixture of various peppers – red, black, white. It's very Louisiana. Thyme and cumin are traditionally added as spices. You can just throw Provencal rights – it will be good. And yes – jambalaya should be spicy, spicy, so you don't need to regret the pepper.
When the liquid from the surface is more or less gone, and the rice tastes about halfway ready, that is, it is still harsh inside, you can add tomatoes to the cauldron. If you want, let it be a can of canned ones, like mine, or if you want – chop fresh ones finely. There are, of course, variations of jambalaya without a tomato component, but still reddish is more welcome. Stir and continue to evaporate the liquid over low heat.
After waiting a little longer, we understand that now seafood can be added to jambalaya. The region is a seaside one, where without them. There are shrimps – throw the shrimps, and I had a sea cocktail at hand, where there are a couple of every creature. We put all this right on top of the rice – it just needs to warm up for a few minutes, and it will be ready.

Well, now, it seems, everything. It remains to chop some fresh parsley into jambalaya. You can also add green onions, if any. Pour in, mix, cover and turn off the gas or whatever you have. The rice should be quite ready by this time. Let the dish brew under the lid for 10-15 minutes, and you can safely serve it. Do you feel what a wonderful flavor seafood has given us? That's why they are needed here.

And here she is – the beautiful jambalaya. Not porridge or pilaf, a combination of smoked meats and seafood, rice and vegetables – the real Louisiana cuisine.Call the guests to the table, add, and eat. And serve different peppers to the table – maybe someone loves and is sharper. Well done, these Cajuns and Creoles, they invented such a wonderful thing. And most importantly, everything is done quickly, in an hour. Try it.
All delicious!
Also Like
Comments for "Central Asian Jambalaya"