Jambalaya with Shrimps
by Editorial Staff
Jambalaya is a Creole dish based on rice. Shrimp is traditionally added to jambalaya, which we suggest you do too. There are many variations of jambalaya, but we have chosen the simplest and most delicious for you.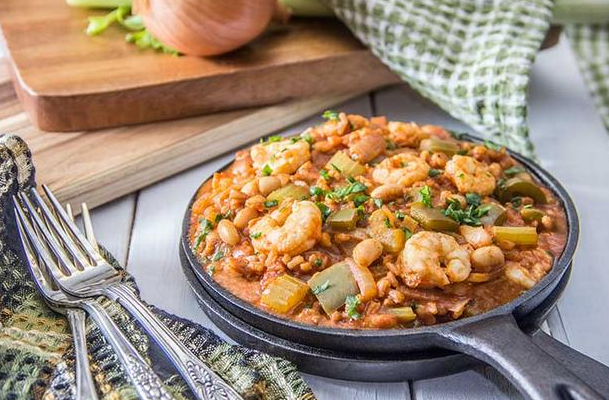 Ingredients
Vegetable oil –1 tablespoon
Chorizo – 220 g
Onion – 1 head
Celery stalk – 1 piece
Red bell pepper – 1 piece
Garlic – 5 teeth
Long grain rice – 1.5 cups
Salt – 1 teaspoon
Fresh thyme – 2 g
Canned tomato slices – 400 g
Oyster juice – 220 ml
Chicken bouillon – 1.5 cups
Shrimp – 450 g
Directions:
Prepare shrimp shell broth : Place the shells in a large saucepan and cover with water. Bring the water to a boil, turn off the heat and leave for at least 15-20 minutes, or longer. Strain the broth and discard the shells.
Pour olive oil into a skillet and heat over medium-high heat. Add the sausage and cook for 4 to 5 minutes, or until the sausage begins to brown. Add peppers, celery and onions, and season with salt and crushed red pepper. Cook for 7 to 8 minutes. or until the mixture softens and becomes very aromatic. Add garlic and cook for 2 to 3 minutes more. Add tomatoes and cayenne pepper. Stir in the rice mixture.
Add 4 tablespoon. shrimp broth, bay leaf and a bunch of thyme. Taste the dish and season with salt. Add the farro, cover and simmer over medium heat for 25 minutes.
Toss with shrimp and beans and cook for another 5-7 minutes. or until the shrimp turns pink. Serve jambalaya with chopped green onions.
Bon Appetit!
Also Like
Comments for "Jambalaya with Shrimps"