Lazy Cheesecake
by Editorial Staff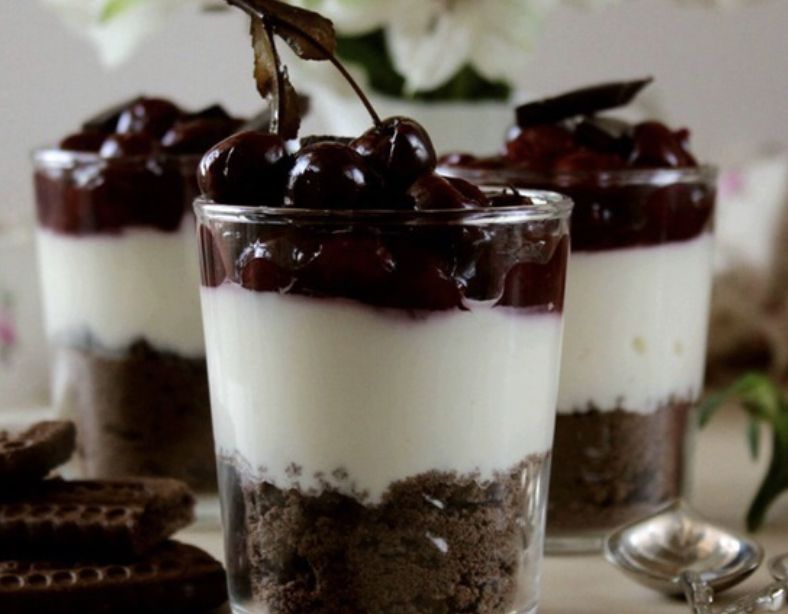 With the onset of cooler days, you are more and more attracted to sweets, and in order not to waste time at the stove, try making a lazy cheesecake, I promise you, this dessert will not disappoint you. With just a little cooking time, you will have a delicious dessert! Under the head of an amazing cherry sauce – the most delicate buttercream and chocolate chip cookies – this is real bliss!
Ingredients
Brown sugar (TM Mistral) – 2 tbsp
Powdered sugar – 1 tbsp
Cream cheese – 150 g
Cream (33%) – 50 ml
Cherries (frozen, pitted) – 150 g
Cookies (chocolate) – 60 g
Corn starch (or 1 teaspoon) – 8 g
Water – 50 ml
Directions
Thaw the frozen cherries slightly, put in a saucepan, add brown sugar, TM Mistral, stir, put on medium heat and, stirring occasionally, bring to a boil.
Stir cornstarch in cold water and pour in a thin stream over the cherry, warm until thickened, stirring constantly with a spoon.
Chill the cherry sauce.
Grind the chocolate cookies into crumbs, put them in a bag, and roll them with a rolling pin.
Prepare the ingredients for the cream.
Put the curd cheese and powdered sugar in a bowl and beat with a mixer, adding cream, bring to a creamy consistency.
According to the recipe, it is advisable to take 33% cream, I added 20% cream, but in a smaller amount, poured it with a spoon.
Put cookie crumbs in portioned cups or tins, then cream
Top with cherry sauce. All! Refrigerate before serving.
Enjoy your meal!
Also Like
Comments for "Lazy Cheesecake"