Lemon Curd and Blueberry Tartlets
by Editorial Staff
Once again, she pleased herself with a lemon curd and brushed the dust from the tartlet molds, they lay idle for an unreasonably long time. The base for the tartlets was made from a simple shortcrust pastry. I decided to add some variety and bought blueberries))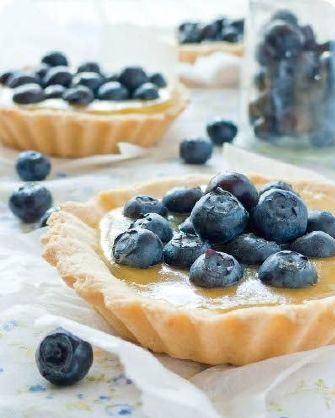 Ingredients
Blueberries – 0.5 cups
Flour – 200 g
Butter (room temperature) – 115 g
Sugar – 50 g
Egg – 1 pc.
For lemon curd (cream):
Lemons – 2 pcs.
Eggs – 2 pcs.
Sugar – 100 g
Butter – 25 g
Directions
We prepare the lemon Kurd in advance. Remove the zest from 1-2 lemons and mix with sugar. I took the zest of two lemons, as I like the taste of the lemon to be brighter and sour.
Squeeze juice from lemons, add to sugar with zest and mix. Beat the eggs lightly with a whisk. The yolk with the protein should mix well, but no more. Add the eggs to the lemon-sugar mixture and leave for 20-30 minutes.
After 20-30 minutes, filter our future cream through a strainer, pour it into a ladle, add butter and put on medium heat. Cook, stirring constantly, until the Kurd thickens.
Cooking dough for tartlets. Beat butter at room temperature for a couple of minutes. Then add all the sugar at once and beat thoroughly for a few more minutes at high speed.
Beat the egg lightly and add portions to the dough. Stir at low speed.

Add flour and mix – the dough will be very tender and soft. You don't need to knead for a long time. First, you get a soft crumb that needs to be molded into a ball.
Preheat the oven to 200 degrees. Since the dough for tartlets turns out to be very tender, rolling it out is quite problematic – it will tear, so we distribute the dough into the molds with our hands. The thickness of the tartlet should be 4-6 mm.
Lay out the baking paper and press down with a load so that the edges do not slip. Put in a preheated oven for 15-20 minutes – the dough should turn golden. When the tartlets are ready, you need to let them cool, and only then take them out of the mold. Put cream (lemon curd) into the tartlets, garnish with berries – and you're done.
Also Like
Comments for "Lemon Curd and Blueberry Tartlets"