Lemon and Raspberry Tartlets
by Editorial Staff
Any fruit can be the filling for such tartlets. Top with whipped cream, if desired.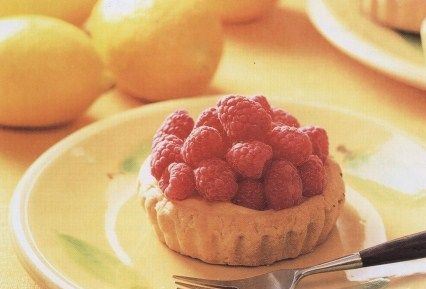 Ingredients
Medium lemons – 4 pcs.
Sugar – 3/4 cup
Butter – 3/4 cup
Cornstarch – 1 tbsp
Egg yolks – 6 pcs.
Shortcrust pastry – 2 cakes
Raspberries – 700 g
Directions
Prepare the filling. Remove 1 tablespoon from lemons. l. zest and squeeze 1/2 cup juice. In a 2-liter saucepan over medium heat, heat the juice, zest, sugar, butter, and cornstarch, stirring occasionally, until the sugar and butter have melted. In a small bowl, beat the egg yolks lightly.
Pour the lemon mixture into the yolks little by little. Cook over medium heat, stirring constantly, for 5 minutes. Cover and refrigerate for 3 hours.
Put each portion of chilled shortcrust pastry in a metal mold and spread over the inner surface with your fingers.
Place metal tins with dough on a baking sheet. Use a fork to make numerous, shallow pricks in the dough. Refrigerate for 20 minutes. Preheat the oven to 200 degrees. Bake the products for 15 minutes until golden brown.
Transfer the forms with finished products to the wire rack. Carefully remove the cooled tartlets from the molds. Fill with lemon and raspberry filling and refrigerate to cool completely.
Also Like
Comments for "Lemon and Raspberry Tartlets"