Meatballs with Gravy in the Oven
by Editorial Staff
To make the meatballs soft and juicy, it is best to bake them in the oven with a fragrant gravy – that's what we'll do. So, the recipe for meatballs with gravy in the oven – read and use!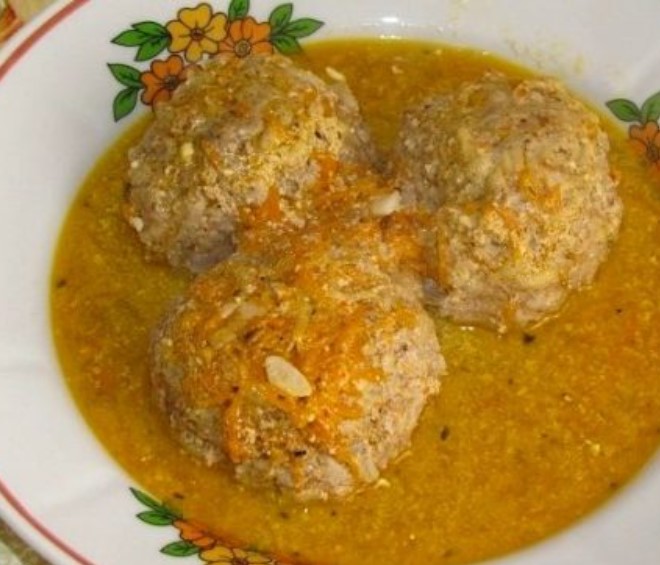 Cook: 1 hour 30 mins
Servings: 8-10
Ingredients
Minced meat – 500 grams
Onions – 2 Pieces
Carrots – 1 Piece
Rice groats – 3 tbsp
Chicken Egg – 2 Pieces
Sour cream – 5 Art. spoons
Vegetable oil – 4 Art. spoons
Garlic – 4 Cloves
Salt – 2 Teaspoons (1 for minced meat, 1 for gravy)
Ground black pepper – 1.5 Teaspoons (1 – in minced meat, 0.5 – in gravy)
Spices – 2 Teaspoons (1 in minced meat, 1 in gravy)
Water – 1 Glass
Directions
First, we need to boil the rice, so we thoroughly rinse it several times, and then set it to simmer. When the rice is half ready, turn off the heat, drain the water from it and wait until it cools down a little. Then we rinse it and mix it with minced meat.
Add eggs and one teaspoon of salt, pepper and meat spices.
Mix all the ingredients very thoroughly until smooth.
We make small meatballs from the prepared minced meat and put them in a baking dish.
Finely chop the onion, and three carrots on a coarse grater. Heat the vegetable oil in a frying pan and fry the onion in it first, and then add the carrots. Fry until vegetables are tender.

Pour a glass of water into the pan, add sour cream, a teaspoon of salt and all the remaining spices, mix thoroughly and bring to a boil, then turn off the heat.
Now we need to pour water into the mold with meatballs so that the liquid reaches half of the meatballs. Then add the gravy, and put the chopped garlic on top. As a result, the liquid should completely cover the meatballs.
Now we tightly wrap the form with foil on all sides and put it in an oven preheated to 225 degrees for an hour. After half an hour, you can unscrew the foil and try the salt and pepper sauce, add water if necessary. Serve ready-made meatballs with any side dish of your choice.
Bon Appetit!
Also Like
Comments for "Meatballs with Gravy in the Oven"