Meatballs with Gravy
by Editorial Staff
When you don't know what to make as hot for lunch or dinner, this simple and very cool option will come to the rescue of how to cook meatballs with gravy. Delicious, satisfying and easy!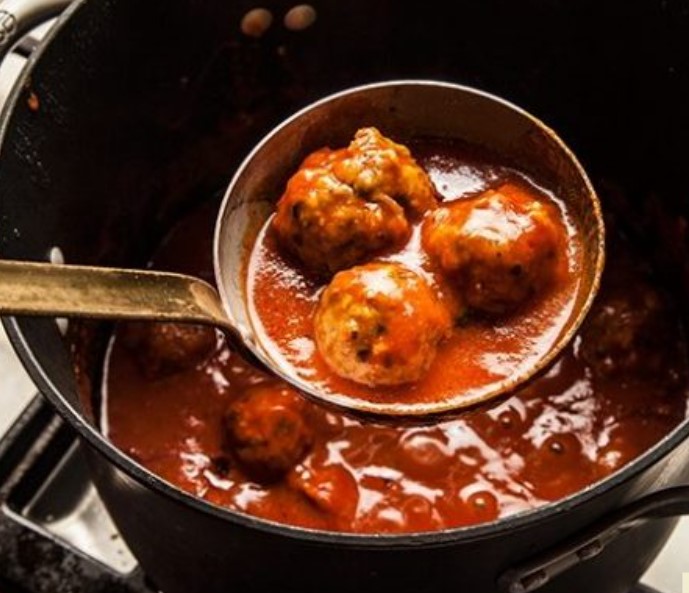 Cook: 1 hour
Servings: 6-8
Ingredients
Bread – 250 grams (+ milk)
Tomato sauce – 1 Liter
Garlic – 2 Cloves
Greens – 1 Pinch
Egg – 2 Pieces
Flour – 1-2 Art. spoons
Minced pork – 250 Grams
Ground beef – 350 Grams
Salt – 1 To taste
Pepper – 1 To taste
Directions
Combine minced pork and beef.
Cut the bread into cubes and soak in milk.

Peel and chop the garlic, beat the eggs, finely chop some fresh herbs.
In a deep bowl for the minced meat, send bread squeezed from milk, an egg, garlic, herbs, salt, pepper. You can also add some grated cheese. Mix thoroughly.
The result is such homogeneous minced meat.
By this time, you can put a saucepan or stewpan with tomato sauce on the fire. Let it boil slowly.
Moisten your hands lightly and form into small meatballs.
Sprinkle them lightly with flour.

Dip one at a time in the boiling sauce. Simmer over low heat for about 30-45 minutes, depending on the size of the balls.
Serve the cooked meatballs with gravy with a side dish of your choice.
Bon Appetit!
Also Like
Comments for "Meatballs with Gravy"