Meatballs
by Editorial Staff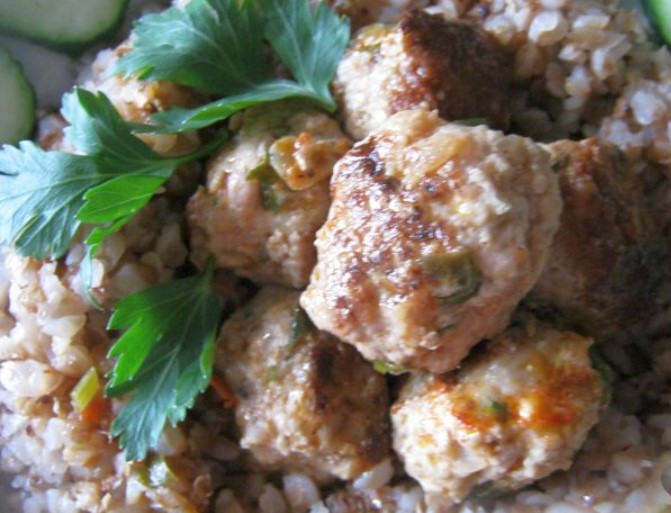 Delicious meat dish for your lunch, and the side dish is the most varied. Usually, meatballs are boiled in broth or soup. We'll cook the meatballs in the sauce. I love meatballs with delicious gravy.
Cook: 40 mins
Servings: 6
Ingredients
Pork – 500 g
or minced pork and beef – 500 g
Bulb onions – 1 pc.
White bread – 1 slice
Chicken egg – 1 pc.
Parsley – 1 bunch
Mustard – 1 teaspoon
Salt to taste
Pepper to taste
Vegetable oil – 30 g
Tomato paste – 2 tbsp
Garlic – 2 cloves
Broth or water – 0.5 cups
Directions
Meatball products in front of you.
How to cook meatballs in the sauce:
Cut the crust off white stale bread and soak the bread in milk. Squeeze the swollen bread from the milk.
Peel the onion, wash and cut into 4 parts.
Wash, dry, and cut the meat into pieces. Grind meat squeezed bread and onions in a meat grinder.
Beat in one chicken egg. Season with salt and pepper.

Wash and chop the parsley finely
Add half the parsley to the minced meat.
Add 1 teaspoon of mustard to the minced meat. Mix the minced meat well with your hands and beat off a little by throwing it on the surface of a cutting board or into a bowl.
With wet hands, form the walnut-sized meatballs.

Preheat a frying pan, pour in vegetable oil. Place the meatballs in the heated oil. Fry meatballs over medium heat for 2-3 minutes on each side. Transfer the finished meatballs to a bowl, cover, and set aside.
Peel the garlic, press, or chop finely.
Make tomato sauce. To do this, pour broth or water into a clean pan. Add tomato paste, 2 tablespoon. tablespoons of vegetable oil, garlic, salt, pepper. Boil the sauce. Add the second part of the parsley.

Place the meatballs in the sauce. Boil.
To cover with a lid. Reduce heat to very low. Simmer meatballs in sauce for 5-7 minutes. The meatballs are ready.
Put your favorite side dish on a plate, put the meatballs on top, and pour over with tomato sauce.
Meatballs in the sauce can be served.
Enjoy your meal!
Also Like
Comments for "Meatballs"