French Meatballs
by Editorial Staff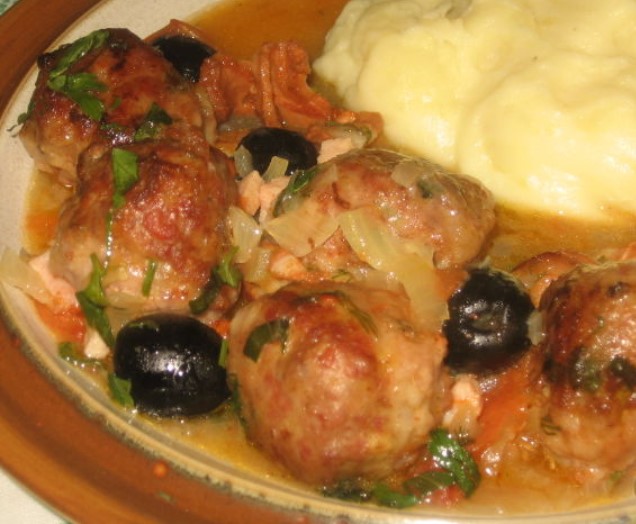 Delicious meatballs stewed in vegetable sauce with olives.
Ingredients
Mixed minced meat – 700 g
Eggs – 2 pcs.
Garlic – 4-5 cloves
Green parsley – 3-4 branches
Flour for breading
Salt
Ground black pepper
For the sauce:
Smoked or salted lard or brisket – 50-70 g
Cooked-smoked ham – 100-120 g
Tomatoes – 2 pcs.
Bulb onions – 1 pc.
Pitted olives – 150-200 g
Flour – 1 tbsp
Meat broth – 0.5 l
Cayenne pepper – 1 pinch
Salt
Ground black pepper
Vegetable oil for frying – 3-4 tbsp
Dill and parsley
Directions
Ingredients for meatballs in French sauce.

How to cook meatballs in sauce:
Put the minced meat in a bowl, add finely chopped parsley, crushed garlic, eggs, salt and pepper. Knead the minced meat properly and, lifting it on your hand and throwing it into a bowl, beat it off 10-15 times.
We form balls of meatballs between the palms moistened with water. Dip the meatballs in flour and put them in the refrigerator for a while.
Cut the bacon into thin slices and turn the ham into small cubes. Finely chop the onion.
Cut the tomatoes into small pieces.
Heat vegetable oil over high heat in a frying pan. Fry the meatballs until lightly crusty on all sides.
We take out and put on a plate.
We spread slices of bacon in a pan, fry on one side, turn over and
Add the ham after 1-2 minutes.

Put onion, tomatoes in a pan, sprinkle with a pinch of hot cayenne pepper and 1 tablespoon. a spoonful of flour. Stir and fry for about 4 minutes.
Pour in the broth, stir and let it boil.
Put the meatballs in the sauce, after boiling again, cover with a lid, reduce the heat to a minimum and leave the meatballs to simmer in the sauce for 25-30 minutes.

Rinse the olives, finely chop the greens.
Add the olives to the meatballs, simmer the meatballs in the sauce for another 5 minutes and sprinkle with herbs.
An excellent side dish for French meatballs is mashed potatoes.
The meatballs in French sauce are ready.
Enjoy your meal!
Also Like
Comments for "French Meatballs"