French Fries
by Editorial Staff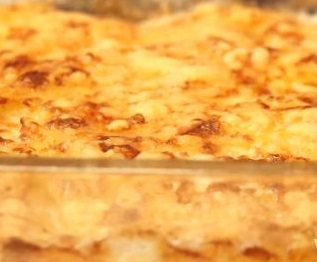 We offer you a recipe for a very tasty and easy-to-cook French potato or potato gratin – baked potato with cheese.
Ingredients
Potatoes – 1 kg
Cream or milk – 500 ml
Hard cheese – 100 g
Butter – 50 g
Garlic – 2-3 cloves
Salt – 2 teaspoon
Ground black pepper – 0.5 teaspoon
Nutmeg – 1 pinch
Directions
Peel 1 kilogram of potatoes, wash and cut into slices 2.5 mm thick.

Pour 500 milliliters of cream or milk into a saucepan (you can do it in half), put on fire. Add 2 teaspoons without top salt, 0.5 teaspoons of ground black pepper, a pinch of nutmeg, bring to a boil.
We lay the prepared potatoes, bring to a boil again and cook the potatoes in cream over medium heat for 10 minutes until half cooked.
Clean 2-3 cloves of garlic, wash, and cut into 1 mm thick slices.
Put half of the prepared potatoes on a baking sheet, level. Sprinkle with prepared garlic on top.
We spread the remaining potatoes, level, sprinkle with 100 grams of grated hard cheese.
Spread 50 grams of diced butter evenly.

We bake potatoes with cheese in a preheated oven at a temperature of 170-180 degrees for 25 minutes.
Take out the finished French-style potatoes from the oven and serve a very tasty potato casserole (potato gratin) to the table.
Also Like
Comments for "French Fries"