French Fries at Home
by Editorial Staff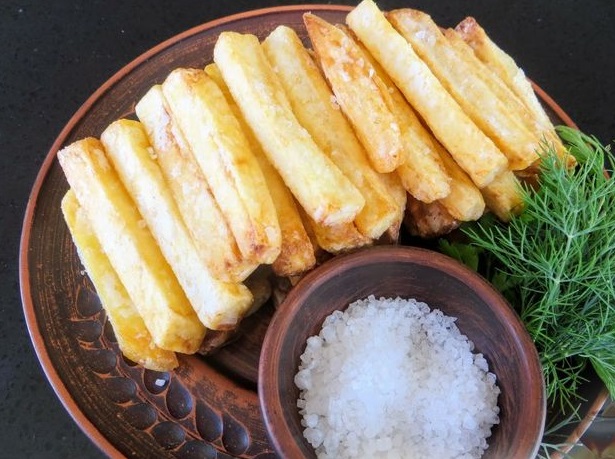 I'll tell you how to cook crispy potatoes at home! Remove first, then add the starch for gourmet French fries! Fast, simple, and restaurant!
Ingredients
Potatoes – 1 kg
Corn starch – 3-4 tbsp
Vegetable oil – for frying
Sea salt – to taste
Directions
Peel the potatoes and cut them into long cubes about 1 cm thick. We send all the potatoes for 10 minutes in a cup of ice water. Be sure to add ice, this will get rid (remove) the starch from the surface of the potato cubes, and they will not stick together when frying.
We wipe the frozen potatoes well with a towel, it is important not to leave drops of water on the surface.
Add cornstarch to the potatoes, mix well. When frying, a beautiful, crispy crust forms.
Shake off excess starch.
Fry the potatoes in batches in heated oil until golden brown. We take out the finished French fries on paper towels (we get rid of excess fat).

Sprinkle the finished potatoes, while still hot, with sea salt. Serve with your favorite sauce. The crust is crunchy, but the potatoes are soft inside!
Also Like
Comments for "French Fries at Home"