Delicious Meatballs
by Editorial Staff
One of the simpler options for hot dishes is minced meat products. In this option, the choice is varied. And if you have kids, they usually love meatballs. Bright, soft and satisfying. Read on!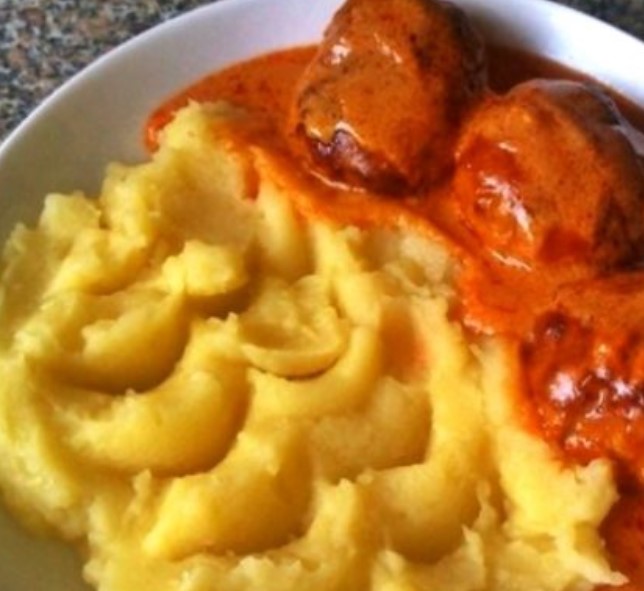 Cook: 1 hour
Servings: 5-6
Ingredients
Minced pork and beef – 800 Grams
Butter – 50 Grams
Sour cream – 400 Grams
Bay leaf – 3-4 pieces
Onions – 2-3 Pieces
Egg – 1-2 Pieces
Vegetable oil – 2-3 tbsp
Wheat flour – 150 grams (50 gr in sauce, 100 gr for rolling meatballs)
Tomato paste – 2-3 tbsp
Salt – To taste
Ground black pepper – To taste
Directions
Chop the onion through a meat grinder. Then combine it with minced meat, egg, pepper and salt.

Knead the minced meat. Leave it aside while you make the sauce.
Melt the butter in a deep skillet.
Then add flour and cook until golden brown.
In another skillet, bring sour cream to a boil.
Then add flour to sour cream over the fire. Mix everything thoroughly.
While continuing to stir, add the tomato paste. Pour in some water if necessary. When the consistency is uniform, the sauce is ready.
Form meatballs from minced meat. Dip them in flour.
Fry the meat products in heated oil on both sides until golden brown.

Pour the sauce into a deep baking dish and add the bay leaf. Arrange the meatballs.
Bake the dish in the oven at 180 degrees for 30 minutes. Serve the meatballs with garnish.
Bon Appetit!
Also Like
Comments for "Delicious Meatballs"