Meringue Cakes
by Editorial Staff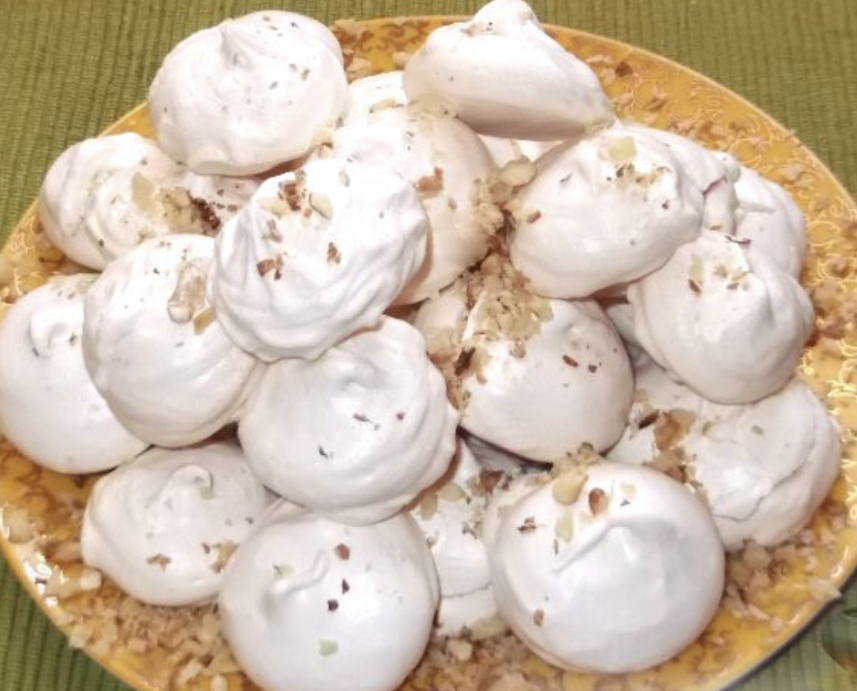 One of the most popular and easy cakes is the meringue cake. Its recipe is traditional and usually differs only in fillers and cream. Meringue cakes are always in place – both for tea and soft drinks.
Ingredients
Eggs (squirrels) – 4 pcs.
Sugar – 1.25 cups
Vanilla sugar – 1 sachet
Walnut – 50 g
Directions
Separate the egg whites, chill them in the refrigerator (40 minutes).
Beat the cooled proteins until fluffy. Depending on the power of the blender, whisk the whites for 3-10 minutes.
Then gradually add sugar, continuing to beat the whites until a dense, thick mass.
Add vanillin at the end of whipping.

Turn the oven on to minimum power.
Moisten a baking sheet with water and cover with parchment paper.
Place the resulting mass with a cornet or syringe at a distance from each other on a baking sheet moistened with water and covered with parchment.
Place the baking sheet in a slightly heated oven and bake meringue cakes for 1-1.5 hours at a temperature of 70-80 (up to 100) degrees.
Chop the nuts.
Put the finished meringue cakes on a dish, sprinkle with chopped nuts, cool and serve.
Enjoy your meal!
Also Like
Comments for "Meringue Cakes"