Milk Pie with Chocolate Icing
by Editorial Staff
It is very convenient to keep on hand a recipe for a pie from simple products that are always available in the refrigerator. Suddenly I felt like sweets for tea, or guests suddenly appeared – and you already know how to treat them! This quick milk pie is from that category. Chocolate icing is a great addition to baked goods!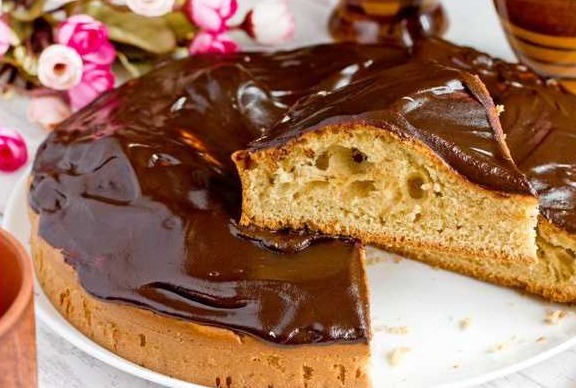 Servings: 6
Cook: 1 hour
Ingredients
For the dough:
Milk (warm) – 170 ml
Eggs – 2 pcs.
Vegetable oil – 3 tbsp
Flour – 220 g
Baking dough – 8 g
Sugar – 130 g
Salt – 1 pinch
For chocolate glaze:
Butter – 30 g
Milk – 4 tbsp
Cocoa powder – 1.5 tbsp
Sugar – 1.5 tbsp
Directions
Sift flour and baking powder (220 grams of flour is almost one and a half cups with a capacity of 250 ml).
Warm the milk slightly (you can use milk at room temperature).
Combine eggs, sugar and a pinch of salt in a bowl.
Beat with a mixer until a fluffy light dense foam is obtained.
Pour warm milk into a bowl and stir.
Turn on the oven to heat up to 180 degrees.

Now add flour and baking powder.
Knead into a smooth, lump-free dough.
Pour the sunflower oil into the dough last.
Knead the dough again.
Pour the dough into a mold. I used a silicone mold with a diameter of 24 cm.
Bake the pie in an oven preheated to 180 degrees for about 35 minutes.
Remove the finished cake from the mold and let it cool.

When the cake has cooled, prepare the chocolate icing. To do this, combine cocoa powder, butter, milk and sugar in a saucepan.
Place the saucepan over low heat. While stirring with a whisk, allow the ingredients to combine into a homogeneous mixture.
Heat the chocolate glaze for another minute and remove from the stove.
Brush the surface of the cake with chocolate icing.

Milk pie with chocolate icing is ready. Cut the pie into portions and serve with dessert.
Bon Appetit!
Also Like
Comments for "Milk Pie with Chocolate Icing"