Mussel Ceviche
by Editorial Staff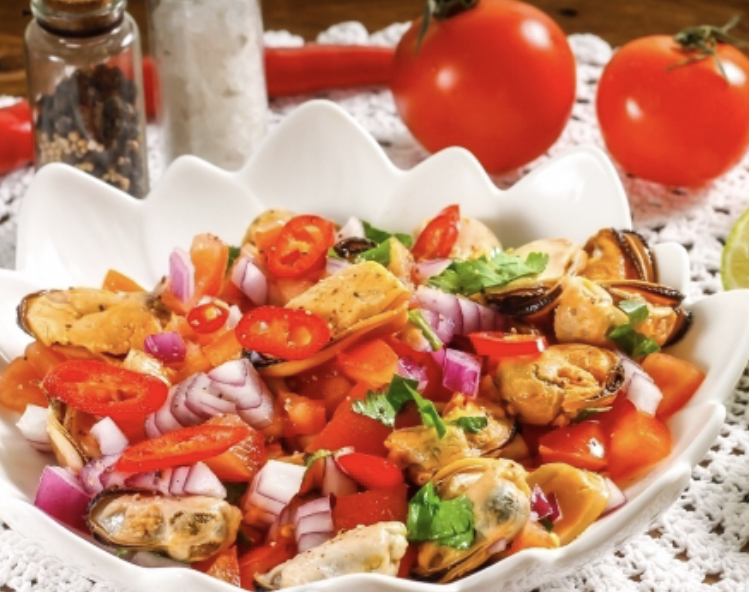 A unique seafood appetizer that will satisfy the taste of sophisticated gourmets. Best served with a glass of white wine.
Ingredients
Mussels – 300 g
Lime – 0.5 pcs.
Lemon – 0.5 pcs.
Salt and pepper to taste
Tomato – 2 pcs.
Red onion – 0.5 pcs.
Chili pepper (red) – 0.5 pcs.
Parsley – 2-3 sprigs (6-8 g)
Directions
Leave the frozen mussels in a deep container at room temperature for 30-50 minutes to defrost, then peel. At this time, compress half the lime and half the lemon, squeezing the juice out of them into a bowl or bowl. Remove the bones if they come across.
Put in a container the mussels thawed and slightly squeezed from the liquid, mix. Season with salt and pepper. Leave for 10-15 minutes, stirring the entire contents of the bowl from time to time.
While the mussels are marinating, create a vegetable salsa. Rinse the tomatoes in water, cut green cores out of them, and cut into cubes. Peel the red onion, rinse, cut in half and dice one half of the vegetable. Wash the greens and chili peppers, cut the peppers into slices, chop the greens. Combine all the cuts in a container, salt, pepper, and mix. Add some olive oil if desired.
Add the pickled mussels to the bowl, stir and place on a serving dish. Serve the mussel ceviche immediately after cooking.
Enjoy your meal!
Also Like
Comments for "Mussel Ceviche"