Omelette in a Bag with Boiled Sausage
by Editorial Staff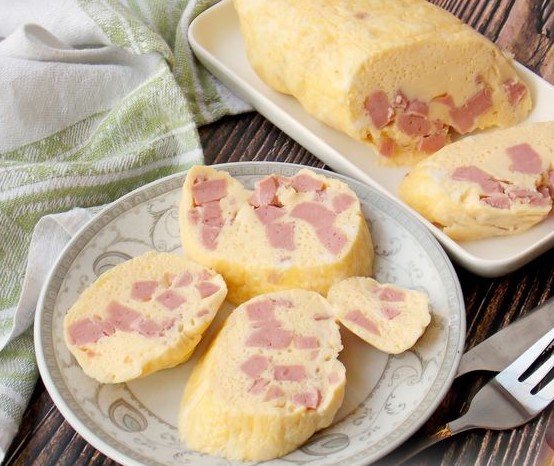 Tired of the usual scrambled eggs and sausage sandwiches? Make this quirky boiled sausage omelet in a regular bag. There is not a drop of oil in it, because we will make it in boiling water, dropping a bag of omelet there.
Cook 20 min
Servings 2
Ingredients
Boiled sausage – 150 g
Eggs – 3 pcs.
Milk – 150 ml
Salt to taste
Directions
Prepare the required ingredients.
Pour water into a wide saucepan, place on medium heat and bring to a boil.
Break eggs into a deep bowl, salt and stir with a fork until smooth.
Pour in milk.

Stir until smooth.
Cut the sausage into small cubes, add to the egg mass and stir.
Gently pour the egg and sausage mixture into a thick heat-treated plastic bag or into a roasting sleeve. Do not tie the bag to release steam during cooking.
Dip the bag gently into the saucepan so that the egg mass is submerged in the boiling water.

Cook the omelet over medium heat for about 10-15 minutes, until the egg mass hardens. Then remove the bag from the water and cool slightly. Remove the bag and transfer the omelet to a plate.
Cut the finished sausage omelet into portions and serve.

Enjoy your meal!
Also Like
Comments for "Omelette in a Bag with Boiled Sausage"