Oven-Baked Pork Belly
by Editorial Staff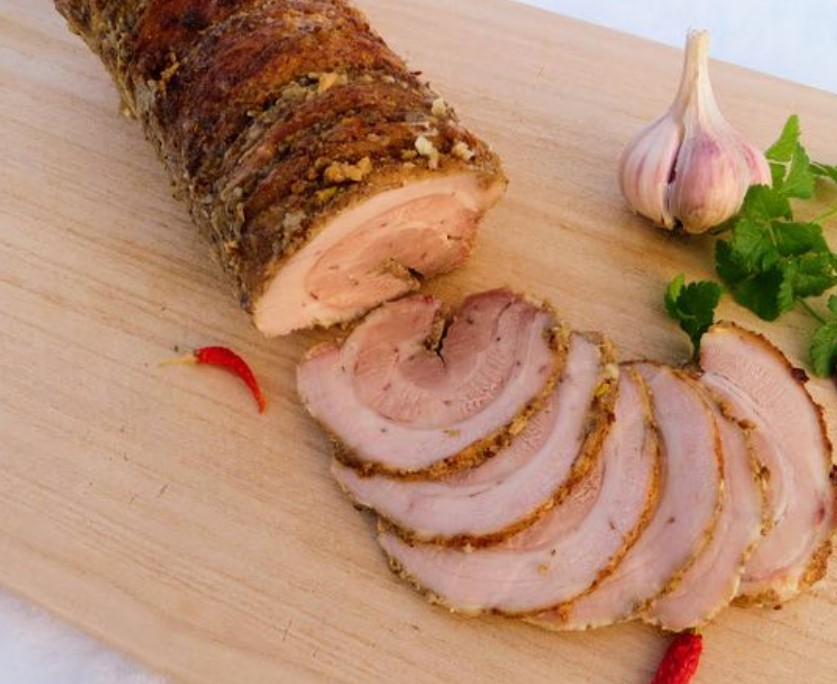 The recipe surprised and pleased! You can get a gorgeous baked brisket in the kitchen without unnecessary movement! Replacement of sausages by 100%. Be sure to try cooking the brisket in the oven, it's delicious! Now I will cook the brisket just like that!
Ingredients
Brisket (pork) – 1.5 kg
Garlic – 5 cloves
Dijon mustard – 1 tbsp
Ground black pepper – 1 teaspoon
Ground coriander – 1.5 teaspoon
Cumin – 1 teaspoon
Salt – 1 tbsp
Directions
We prepare all the necessary products for cooking brisket in the oven. You can take your favorite spices, I think it will turn out just as tasty. But still it is better to take sweet mustard.

Cut off the skin from the pork belly.
Cooking the marinade. Mix the garlic passed through a press with all the spices.
We coat the meat well, rub in the marinade from all sides. And we remove the pork in the marinade in a cool place (in the refrigerator) for at least 5 hours.
Then we fold the brisket into a tight roll. Better still wrap the roll with threads.

Put the brisket in a mold or on a baking sheet, cover with foil and send to the oven.
We bake the pork belly in the oven in three stages: – the first stage: temperature 100 degrees, time 1.5 hours, under foil; – second stage: temperature 130 degrees, time 1 hour, under foil; – the third stage: temperature 220 degrees, time 20-30 minutes, without foil.
Leave the baked pork to cool. Then we put the brisket in the refrigerator overnight. You have to be patient here. 🙂 (Before placing the meat in the refrigerator, I put a couple of packets of salt on top as a load. It is advisable to remove the threads from the brisket in advance.)
Great taste and aroma! The cooled brisket is very well sliced ​​and eaten even better!
Oven brisket recipe is super! A few minutes of preparation, a few hours of patience – and a homemade delicacy is on your table!
Bon appetit!
Also Like
Comments for "Oven-Baked Pork Belly"