Pancakes with Milk, Stuffed with Boiled Eggs and Ham
by Editorial Staff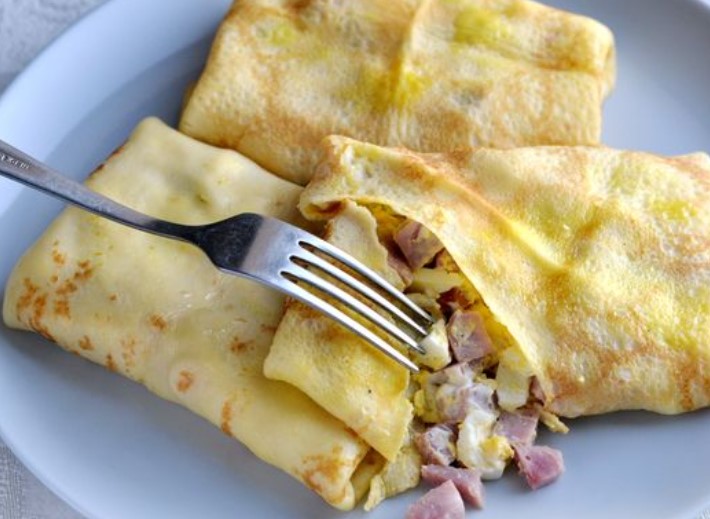 Making thin pancakes is not difficult at all – just the right proportions of products and a couple of tricks. And if you wrap an interesting filling of boiled eggs and ham in them, it will turn out very tasty!
Cook: 1 hour 10 mins
Servings: 15
Ingredients
For pancakes:
Milk – 500 ml
Wheat flour – 250 g
Eggs – 3 pcs.
Sugar – 1 tbsp (15 g)
Salt – 5 g
Butter (for frying) – 25 g
For filling:
Ham – 200 g
Eggs – 3 pcs.
Mayonnaise – 45 g (2 tablespoons)
Salt to taste
Ground black pepper – a pinch
Directions
Let's prepare the products. It is best to sift the flour through a sieve in advance. To give the appetizer a brighter and more appetizing aroma, you can take smoked ham. If desired, mayonnaise can be replaced with sour cream, and butter with vegetable oil.

Preparing pancake dough. Eggs (3 pcs.) Break into a deep bowl. Add salt and sugar.
Beat eggs with salt and sugar with a whisk until light foam.
Pour in milk and mix.
Add the sifted flour.
Mix the dough thoroughly with a whisk until smooth, breaking the lumps.
The pancake dough with milk should turn out to be quite liquid and drip from the spoon in a thin stream. We leave the dough for about 15 minutes, so that it is infused and the gluten in the flour disperses well.
Preparing the filling for pancakes. Eggs (3 pcs.) Are placed in a saucepan with cold water, put on heating and boiled hard (about 7-8 minutes after boiling water). Then we cool the boiled eggs by dropping them into cold water. Peel the eggs and cut them into small cubes.
Cut the ham into the same small cubes.
Combine chopped eggs and ham in a separate bowl.
Add mayonnaise and black pepper. If desired, you can add salt (you should focus on the salinity of the ham).

Preheat a pan over medium heat and grease with butter. Pour about a ladle of dough into the pan and distribute in a thin layer, gently tilting the pan to the sides. Fry the pancake over medium heat for about 1-2 minutes, until golden brown. The amount of dough per pancake can vary depending on the dia of the pan and the desired thickness of the pancakes.
Then turn the pancake over, fry for about 1 minute.
Remove the finished pancake from the pan. Fry the rest of the pancakes in the same way, greasing the pan with butter each time. To make the pancakes less greasy, ready-made pancakes can be blotted with paper napkins. I got 15 thin pancakes.
Put one tablespoon of the filling in the center of each pancake.
We wrap the pancakes with an envelope.

We spread the finished pancakes with the filling on the plate with the seam down.
Thin pancakes with milk, stuffed with boiled eggs and ham, ready.

Enjoy your meal!
Also Like
Comments for "Pancakes with Milk, Stuffed with Boiled Eggs and Ham"