Ham and Boiled Egg Snack
by Editorial Staff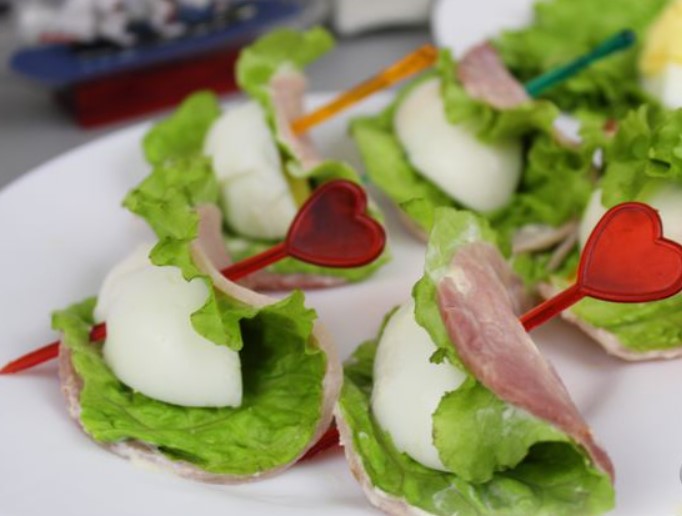 From a minimum of ingredients, you can prepare a very beautiful appetizer that fits perfectly into the festive menu! This simple snack of slices of ham and quarters of boiled eggs can even be served for breakfast if your goal is to make it special. Or just use this recipe to find a use for uneaten boiled eggs.
Ingredients
Eggs – 4 pcs.
Ham (thin slices) – 150 g
Sour cream – 2-3 tbsp
Mustard – 1 teaspoon (to taste)
Leaf lettuce – 1 small bunch
Directions
To prepare a delicious quick snack, you will need eggs (you can take previously cooked ones), ham, lettuce, sour cream and mustard.

Dip the eggs into cold water and boil them hard (8 minutes after boiling). Transfer the boiled eggs to cold (preferably even ice-cold) water and let cool completely.
Then peel the eggs and cut them lengthwise into 4 pieces.
Cut round slices from the ham (mine is 7 cm in diameter). You can immediately take round slices of ham – this will speed up the cooking process.
Rinse lettuce leaves, dry and tear into pieces that would approximately correspond to the size of ham slices.
For the sauce, combine sour cream with mustard.
Stir
Grease each slice of ham with sauce, not reaching the edges of about 3-5 mm.

Place lettuce on top of the ham with sauce.
A quick, simple and very beautiful ham and boiled egg appetizer is ready.

Enjoy your meal!
Also Like
Comments for "Ham and Boiled Egg Snack"