Pasta with Beans in Tomato Sauce
by Editorial Staff
Any pasta is delicious and very satisfying. And you can add any vegetables, meat, cheese to them, make a sauce. Today I'll tell you how to cook macaroni with beans in tomato sauce.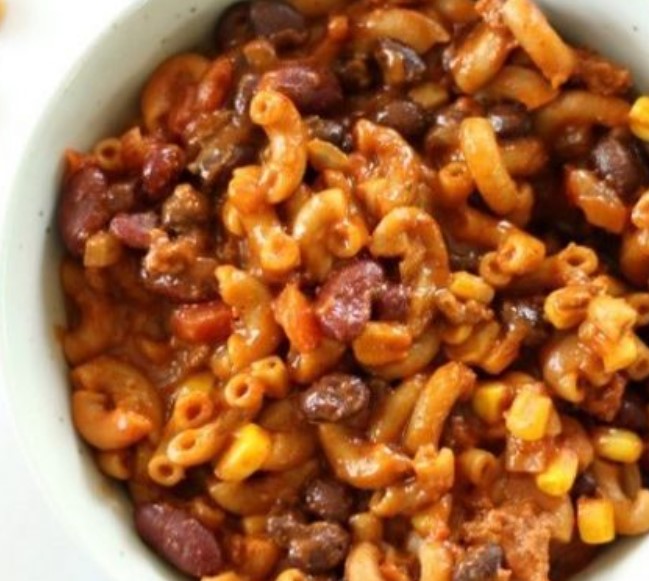 Cook: 40 mins
Servings: 8
Ingredients
Olive oil – 1 tablespoon the spoon
Onion – 1 Piece
Garlic – 2 Cloves
Ground beef – 230 Grams
Flour – 2 Art. spoons
Chili powder – 2 Tbsp. spoons
Tomato sauce – 425 Gram
Tomatoes – 400 Grams
Canned Black Beans – 420 Grams
Canned Red Beans – 420 Grams
Frozen Corn – 1 Cup
Pasta – 2 Glasses
Beef Broth – 2 Glasses
Grated hard cheese – 1 Glass
Directions
Dice the onion and finely chop the garlic. Heat vegetable oil in a saucepan and put onion, cook for 3-5 minutes, then add garlic.
Add ground beef to the pan, fry for a few minutes, then add flour, chili powder.
Stir all the contents well, fry over medium heat for several minutes.
Peel the tomatoes and cut into cubes, place the vegetables in a saucepan, add the canned beans after draining the water, as well as the tomato sauce and frozen corn.

Mix all ingredients well. Warm up for 1-2 minutes.
Add pasta and broth to the pot (can be replaced with water). Cover the pot and bring to a boil, then reduce heat and cook for about 15 minutes.
Remove the lid and mix everything.
Add hard cheese, salt and pepper to taste.
Stir everything and turn off heat, cover and leave for 2-4 minutes.
Put the finished dish on plates and serve hot to the table.
Bon appetit!
Also Like
Comments for "Pasta with Beans in Tomato Sauce"