Pear Cake with Honey Caramel
by Editorial Staff
Cupcakes are fast, tasty, inexpensive pastries. An incredible variety of recipes allows you to make muffins every week, and each time there will be a different taste. This time add pears and aromatic spices to the kefir cake dough, and pour the finished pear cake on top with honey-creamy caramel.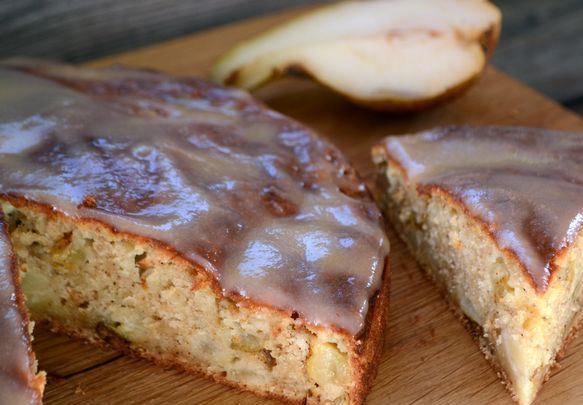 Ingredients
Pears – 3 pcs.
Kefir or yogurt – 300 ml
Butter – 160 g
Eggs – 2 pcs.
Wheat flour – 360 g
Sugar – 150 g
Baking powder – 2 teaspoon
Cardamom – 1/2 teaspoon
Cinnamon – 2 teaspoon
*
For caramel:
Cream, 33% fat – 120 ml
Liquid honey – 120 g
Directions
Sift the flour into a deep bowl and place the diced cold butter here. Leave a small piece of butter to grease the baking dish.
Quickly rub the butter and flour into small crumbs with your hands. Add sugar here and stir. You can take less sugar if the pears are sweet.
Wash the pears, remove the cores and cut into large cubes.
Add fresh pear cubes, baking powder, cardamom and cinnamon to the butter crumbs. Mix gently with a fork or spoon.
Break the eggs into another deep bowl, add kefir (you can take yogurt instead of kefir).

Stir with a whisk or spoon until smooth.
Pour the liquid ingredients over the butter crumb and stir the dough with a spoon.
Preheat the oven. Grease the baking dishes with butter. Pour the dough into the molds.
Bake the pear cake on kefir in a preheated oven at 180 degrees for about 1 hour. Check the readiness of the cake by piercing it with a match: if the match remains dry, the cake can be removed from the oven.
While the pear cake is cooling, make the caramel. Heat the cream, add honey to it.
The mass should boil. Boil the mass over low heat for about 5-7 minutes, it will become thicker and darker. Set the caramel aside and cool.
Cover the surface of the warm cake with honey caramel.
The pear muffin can now be served. The taste of a fragrant dessert will reveal even more black tea with milk. Try it!
Also Like
Comments for "Pear Cake with Honey Caramel"