Yogurt Jelly with Caramelized Pear
by Editorial Staff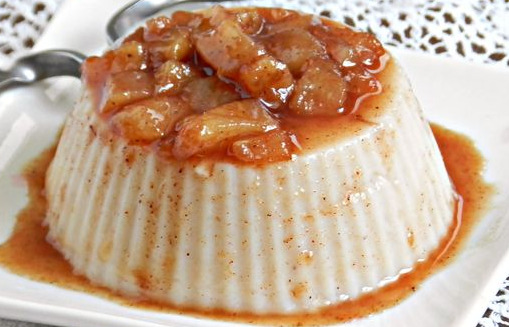 The yogurt jelly is light and tender. The caramelized pear with the addition of cinnamon gives the yogurt dessert an interesting taste and a pleasant spicy aroma.
Ingredients
Pear – 250 g
Natural yogurt without additives – 200 ml
Sugar – 100 g
Vanilla sugar – 10 g
Gelatin – 7 g
Ground cinnamon – 1 teaspoon
Water – 1/3 cup (60 ml)
Directions
Pour gelatin with cold water and leave for 30 minutes to swell.
Then place the container with gelatin in a bowl of hot water and, stirring, bring the gelatin until completely dissolved.
Wash the pear, peel, and core. Cut the pear into cubes.
Put the chopped pear into the pan, add 2/3 of the total sugar, add cinnamon.

Put a pan with a pear over medium heat and, stirring with a spatula, heat until all the sugar is dissolved. Then reduce the heat and cook the pear in caramel for 10-15 minutes.
Cool gelatin. Beat the yogurt with the remaining sugar and vanilla sugar. Purée half of the caramelized pear with a blender, leave the other half to serve dessert.
Combine pear puree with yogurt, beat. Pour the diluted gelatin into the yogurt mass in a trickle and beat well again.
Pour the resulting yogurt mass into silicone molds, bowls, or glasses and refrigerate until completely solidified, for about 2-3 hours.
Before serving, remove the jelly from the refrigerator, release it from the molds, and place it on plates. If the mold is difficult to remove, dip it in hot water for a few seconds, then quickly transfer the jelly to a plate.

Put the remaining caramelized pear on the yogurt jelly.
Enjoy your meal!
Also Like
Comments for "Yogurt Jelly with Caramelized Pear"