Pepper Stuffed with Cheese and Buckwheat
by Editorial Staff
Peppers stuffed with cheese and buckwheat is a delicious vegetarian dish that is easy and simple to prepare!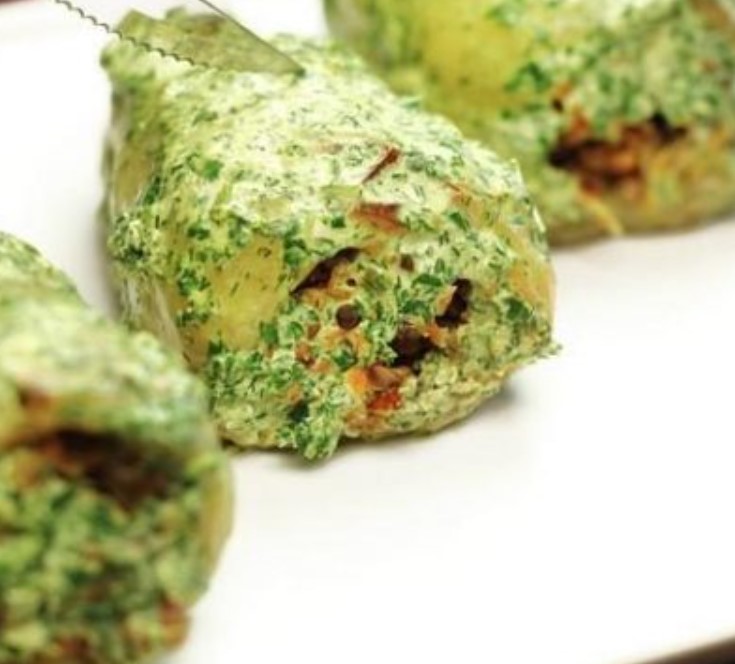 Cook: 45 mins
Servings: 3-4
Ingredients
Peppers – 4 Pieces
Carrot – 1 Piece
Buckwheat – 1/2 Cup
Adyghe cheese – 150 Grams
Salt – 1 Teaspoon
Melted butter – 3 tbsp
Sour cream – 1/2 Glass
Mustard – 1
Dill, parsley – – To taste
Ground black pepper – 1/2 Teaspoon
Turmeric – 1/2 Teaspoon
Directions
Finely crumble the Adyghe cheese, grate the carrots. Heat oil in a frying pan and fry the spices in it, then put the carrots. After 5-7 minutes, add carrots with cheese. Fry for a few more minutes, and then add the washed buckwheat, keep it on the fire for a while and add water in a ratio of 1: 2, cover, reduce the heat to a minimum and simmer gently until tender.
Then we process the peppers. To do this, we cut off their tops and cleanse them of seeds. Then pour boiling water over it. The peppers should be softer. At this time, buckwheat with vegetables should come up. Add oil to buckwheat and stuff the peppers with it.
Next, put the peppers in a greased baking dish.

And we send it to the oven for 10 minutes.
While the peppers are baking, prepare a delicious sauce. To do this, use a blender to mix sour cream, mustard and herbs. After 10 minutes, take the peppers out of the oven, pour them abundantly with sauce and send them back to the oven for 5-7 minutes.
Serve hot.
Bon Appetit!
Also Like
Comments for "Pepper Stuffed with Cheese and Buckwheat"